Showing 1-20 of
30 products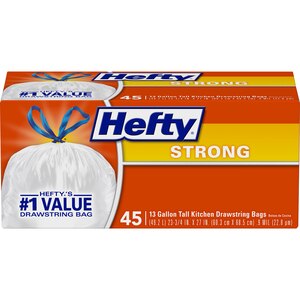 Hefty Strong Tall Kitchen Drawstring Trash Bags, 13 Gallon, 45 CT
Hefty
Limit 2 per order
Hefty Ultra Strong Tall Kitchen Drawstring Trash Bags, Lavender & Sweet Vanilla, 13 Gallon, 40 CT
Hefty
Limit 2 per order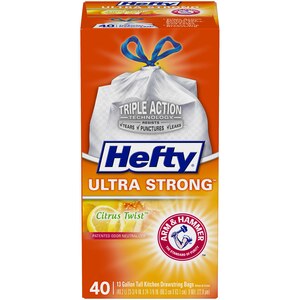 Hefty Ultra Strong Tall Kitchen Drawstring Trash Bags, Citrus Twist, 13 Gallon, 40 CT
Hefty
Limit 2 per order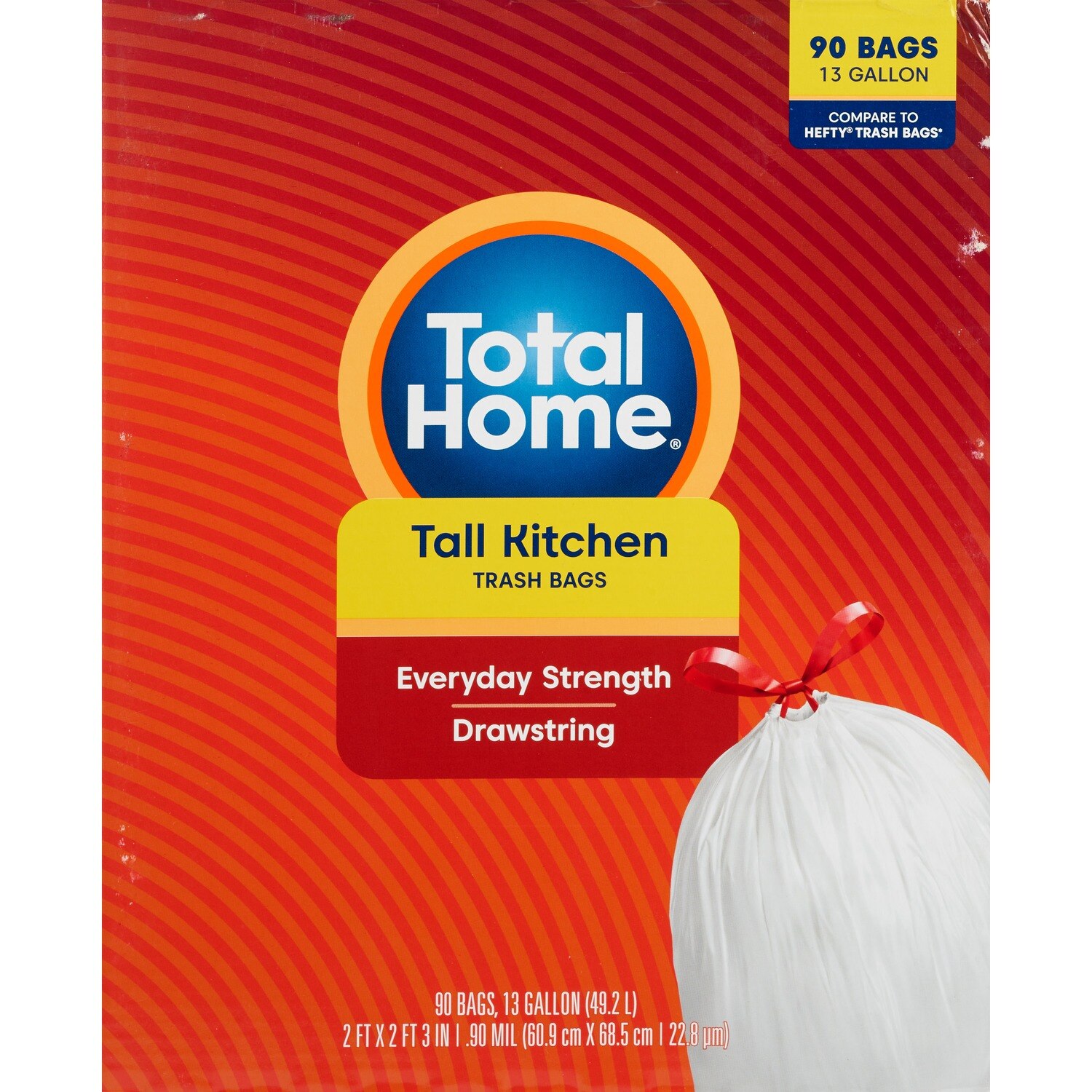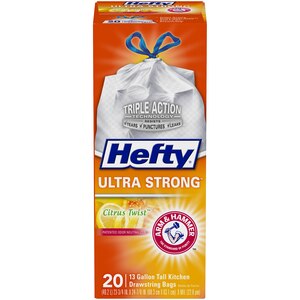 Hefty Ultra Strong Tall Kitchen Drawstring Trash Bags, Citrus Twist, 13 Gallon, 20 CT
Hefty
Free shipping with $35+ orders
Limit 6 per order
Hefty Strong Large Multipurpose Drawstring Trashbags, 30 Gallon, 28 CT
Hefty
Limit 2 per order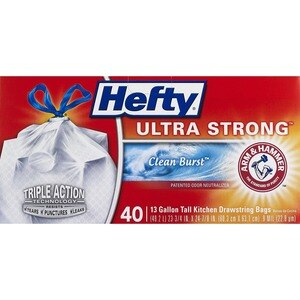 Hefty Ultra Strong Tall Kitchen Drawstring Trash Bags, Clean Burst, 13 Gallon, 40 CT
Hefty
Limit 2 per order
Hefty Ultra Strong Tall Kitchen Drawstring Trash Bags, Crisp Orchard Apple, 13 Gallon, 40 CT
Hefty
Limit 2 per order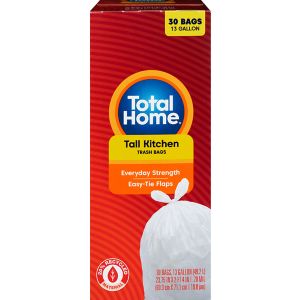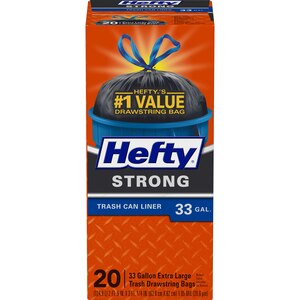 Hefty Strong Extra Large Trash Can Liner Drawstring Bags, 33 Gallon, 20 CT
Hefty
Limit 2 per order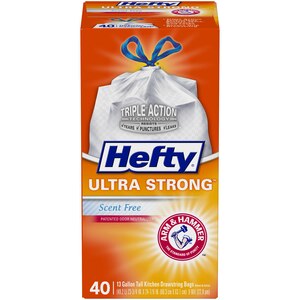 Hefty Ultra Strong Tall Kitchen Drawstring Trash Bags, Scent Free, 13 Gallon, 40 CT
Hefty
Limit 2 per order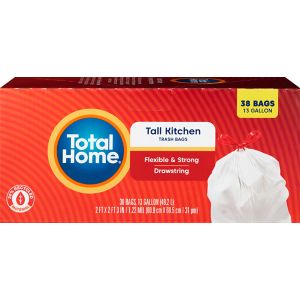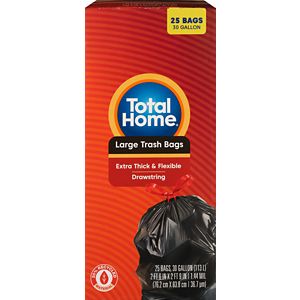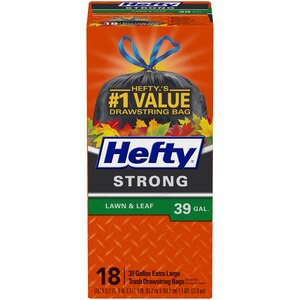 Hefty Strong Lawn & Leaf Extra Large Drawstring Trash Bags, 39 Gallon, 18 CT
Hefty
Limit 2 per order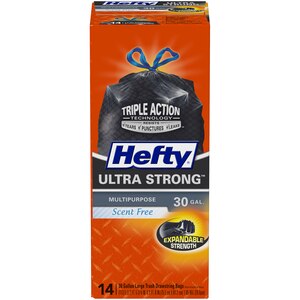 Hefty Ultra Strong Large Multipurpose Drawstring Trash Bags, Scent Free, 30 Gallon, 14 CT
Hefty
Limit 4 per order
Prices may vary from online to in store.
Trash Bags
From your kitchen to the bathroom, trash bags are used almost everywhere at home and at work. When it comes to finding the right trash bags, there's no shortage of brand names and sizes available today to choose from. You can make life easier by trying a few simple tips with your trash bags and trash cans so that filling and emptying them isn't such an ordeal. Check out these useful "garbage hacks" designed with convenience in mind.
Preventing Trash Bag Messes
Even the most heavy duty trash bags can be prone to leaks or tears. In a busy kitchen, you're likely to run into plenty of trash-related messes. No matter where you are, you can try some of these tips to help keep icky messes at bay:
Place newspapers in the bottom of your trash bags before you fill them. This creates an additional layer of protection to prevent fluids and foods from leaking out of the bottom of the bag and into your trash can.
Use a sticky wall hook, and place one on each side of your trashcan upside down. These hooks can be used to hold onto the trash bag's drawstring so that it doesn't sink down into the can, which normally results in a messy ordeal.
If you don't have wall hooks, you can also secure trash bags using large binder clips to keep them secure.
Garbage Bag Hacks
You can find trash bags in a variety of sizes ranging from those made for a bathroom trash can all the way up to cleaning up construction sites. For smaller trash cans, recycle your plastic shopping bags and use them as a trash bag instead of purchasing brand-new "bathroom trash bags." When it comes to your kitchen and other rooms, place several new trash bags in the bottom of the can before you put a new bag in. This way, every time you need to replace the trash bag, there's already a few new ones waiting for you.
If you're doing some quick kitchen cleanup, place the top edge of an open trash bag inside a kitchen drawer, then close it tightly. This creates a sturdy "helping hand" so you can toss things in the bag nearby while you're tidying up. If you're worried about awful trash-related smells, throw some dryer sheets into your trash bag. They can help reduce the odor and keep your home smelling fresher, longer. And finally, make sure you always choose the right size and right durability for every trash can according to your needs.
Related Searches
hefty 30 gallon trash bags, 8 gallon trash bags, hefty scented trash bags, 13 gallon trash bags, tall kitchen trash bags, 45 gallon trash bags