Showing 1-19 of
19 products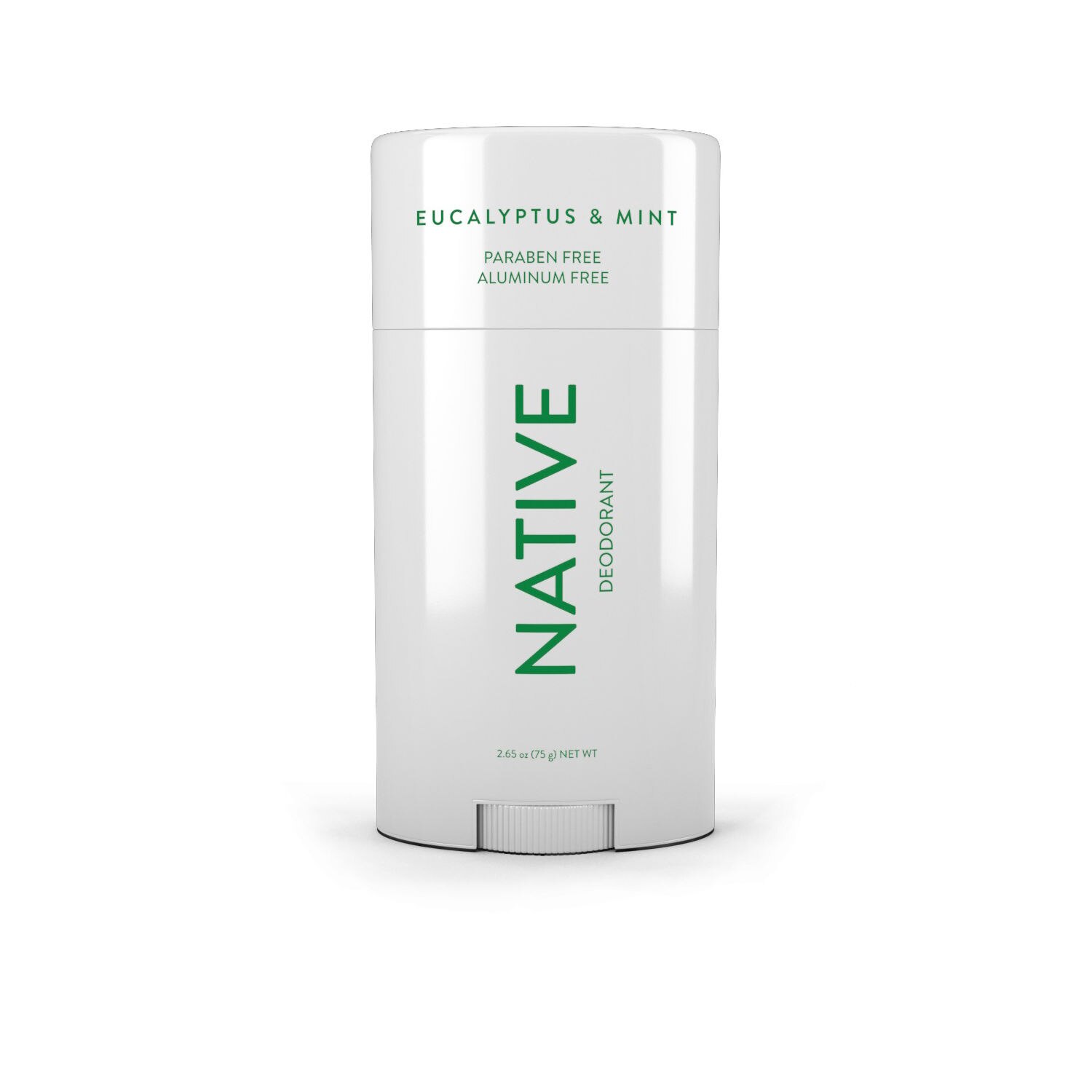 Native Deodorant, 2.65 OZ
NATIVE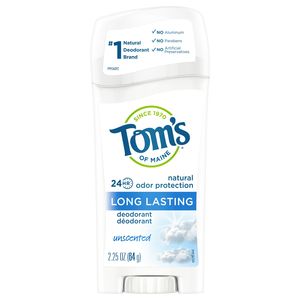 Native Sensitive Deodorant, 2.65 OZ
NATIVE
ARM & HAMMER Essentials Deodorant, Solid Oval, Orange Citrus, 2.5 OZ
Arm & Hammer
Free shipping with $35+ orders
Limit 6 per order
Crystal Essence Mineral Deodorant Roll-On Lavender & White Tea
Crystal Essence
Limit 6 per order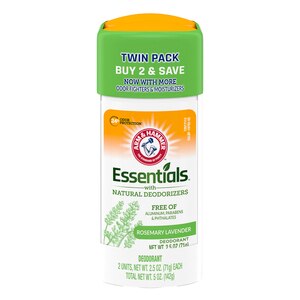 ARM & HAMMER Essentials Deodorant, Solid Oval, Rosemary Lavender, Twin Pack (Pack of 2, 2.5 OZ)
Arm & Hammer
Limit 6 per order
Tom's of Maine Coconut Lavender Antiperspirant Deodorant, 2.5 OZ
Tom's of Maine
Limit 6 per order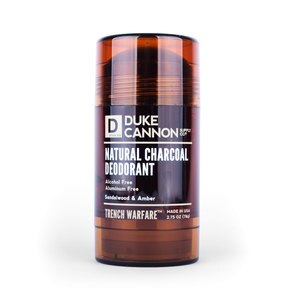 Duke Cannon Natural Charcoal Deodorant | Sandalwood & Amber
Duke Cannon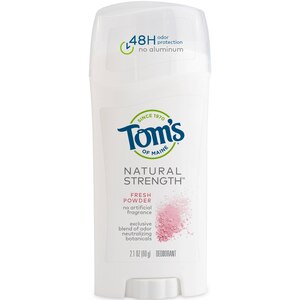 Tom's of Maine Natural Strength Fresh Powder Deodorant, 2.1 OZ
Tom's of Maine
Limit 4 per order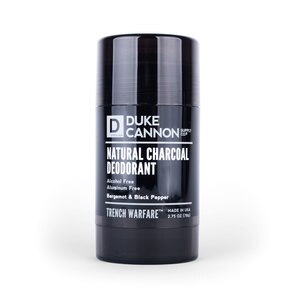 Duke Cannon Natural Charcoal Deodorant | Bergamot & Black Pepper
Duke Cannon
Limit 4 per order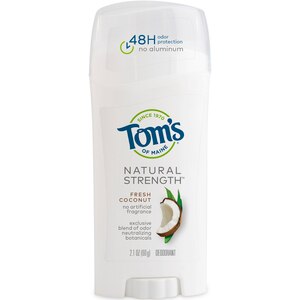 Tom's of Maine Natural Strength Fresh Coconut Deodorant, 2.1 OZ
Tom's of Maine
Limit 6 per order
Tom's of Maine Long Lasting Deodorant Stick Soothing Beautiful Earth 2.25 OZ, 6 CT
Tom's of Maine
Prices may vary from online to in store.
What Is Natural Deodorant?
Natural deodorant typically refers to deodorant formulated without aluminum. Natural deodorants often contain ingredients that are derived from natural sources, such as essential oils and baking soda. However, natural deodorant is a very broad term and products labelled as natural can still contain chemicals and a wide variety of ingredients, so always be sure to read the label – especially if you have any skin allergies.
Why Use Natural Deodorant?
It has been suggested that the use of aluminum in conventional deodorants could be linked to breast cancer and Alzheimer's disease. Most authorities such as the National Cancer Institute and the FDA say there is no cause for concern and state that there is no concrete evidence for a link between aluminum deodorants and disease. However, with all the conflicting information surrounding aluminum available on the internet today coupled with the move toward chemical-free personal care products, many people have decided to err on the side of caution, giving rise to the natural deodorant industry.
All Natural Deodorant
Another popular reason for trying natural deodorant is much less controversial: skin allergies. For those with sensitive skin or allergies to the chemical compounds commonly found in conventional deodorants, natural deodorants can work wonders. However, it is important to remember that even the best natural deodorant can still contain chemicals or other ingredients that may irritate sensitive skin. Always be sure to read the label, and discontinue use if you develop a rash or any other adverse reactions. For those with very sensitive skin, it's a good idea to look for a natural deodorant for sensitive skin. These products are more likely to avoid potentially irritating ingredients like propylene glycol, fragrances, and parabens.
The good news is that whatever your reason, there has never been a better time to switch to natural deodorant! There are plenty of products to choose from, including many well-known and affordable brands like Tom's natural deodorant and Arm & Hammer Essentials natural deodorant.
Switching to Natural Deodorant
Curious about natural deodorant but not sure what to expect? The biggest difference between natural deodorant and deodorant that contains aluminum is sweating. While most people use the terms deodorant and antiperspirant interchangeably, they actually refer to two different functions. Antiperspirant prevents sweating, while deodorant keeps you smelling good but does not prevent your body from sweating. Aluminum deodorant doubles as an antiperspirant, since aluminum temporary blocks underarm glands to prevent you from sweating. Natural deodorant functions only as a deodorant, so you will still sweat. But there's no need to worry – deodorizing and antibacterial ingredients like baking soda and essential oils are included to help keep you smelling fresh despite any wetness.
The Best Natural Deodorant for You
So you've decided to try a natural deodorant…but which should you choose? If you are looking to avoid aluminum in all its forms, avoid crystal deodorants, as some of these may use alum crystals that contain a type of aluminum. If you want to avoid chemicals entirely, your best bet is an organic deodorant. The term organic is regulated by the USDA, and any product carrying the label is required to meet strict standards. If you are just looking for aluminum free deodorants, you'll have your pick. Everyman Jack is a brand of natural deodorant for men that comes in a variety of masculine scents like cedar, sandalwood, and mint. For women's deodorant without aluminum, consider Alba Botanica or Weleda deodorant. A popular all natural deodorant that caters to both men and women is Tom's deodorant.
Keep in mind that these are just a few of the options available to you. There are many more to choose from! It may take a few tries to find the right non aluminum deodorant for your needs, so be patient as you make the transition to using deodorant without aluminum. Have fun experimenting with different brands and scents, and don't be afraid to try something unexpected, such as an all natural spray on deodorant. Remember, the best aluminum free deodorant is the one that has you feeling good – and smelling even better!
Related Searches
best natural deodorant for men, natural deodorant for women, crystal essence deodorant, schmidts natural deodorant, herbal cologne, cologne spray