Showing 1-6 of
6 products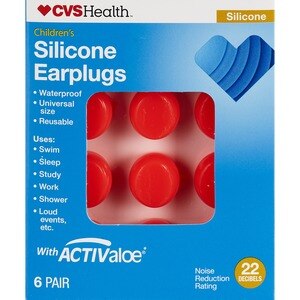 CVS Health Children's Silicone Earplugs, 12CT
CVS Health
Buy 1, Get 1 50% Off - Add 2 or more to qualify!
Limit 6 per order
Prices may vary from online to in store.
Ear Plugs
Whether you're dealing with loud neighbors, jet noise, or just loud noises while at work, ear plugs are an excellent way to keep your ears protected. Ear plugs can be made from a variety of material like wax or silicone, but most modern versions are made of soft, pliable memory foam. The best ear plugs can help to prevent you from hearing loud sounds, protect your ears from the dust or wind, and can even prevent water from getting in your ears while swimming. Read on to learn more about these helpful hearing protection accessories.
Types Of Ear Plugs
Most new types of ear plugs are disposable, which means you should discard them after each use. This is to promote healthy, sanitary use and keep your ears clean. You should never wear ear plugs while diving, since the water and air will get into your ears due to the high pressure of being underwater. It's said that a man named Ross Gardner first discovered a type of foam to be used in earplugs back in 1967. Today, soft memory foam is the material of choice since it's easy to get snugly into the ear canal without causing any damage.
Where Can I Get Ear Plugs
Many people use ear plugs in their professional life including construction workers, musicians, and people who work in warehouses. They're often required by many employers as part of their overall safety rules. There are specially designed ear plugs made just for flying in airplanes. These ear plugs help to reduce the pain commonly associated with flying by helping to equalize the pressure in your ears. Some people wear ear plugs when they sleep to help block sounds out for a better night's rest.
How To Use Ear Plugs
When using ear plugs, be sure to carefully read the directions included on the packaging. If you have foam ear plugs, first roll them into a thin rod. Then, pull back on your ear and gently push the ear plug into your ear canal. Wait approximately 20 seconds for the ear plug to re-expand. Make sure you insert ear plugs carefully, as they can do serious damage to your ears if used incorrectly. Ear plugs are not recommended for babies or small children. If you decide to use ear plugs while sleeping, make sure you can still hear loud noises in case there is an emergency while you're sleeping. With proper use, these handy tools can give you peace of mind while you sleep, and safety while you work.
Related Searches
ear plugs for kids, homeopathic ear drops, ear drops for ear ache foam ear plugs, swimming ear plugs, ear plugs for sleeping