Showing 1-8 of
8 products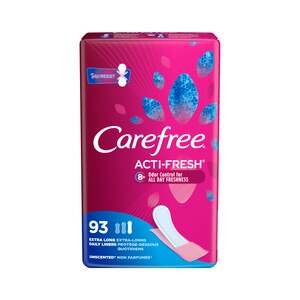 Carefree Acti-Fresh Extra Long Pantiliners To Go, 93 CT
Carefree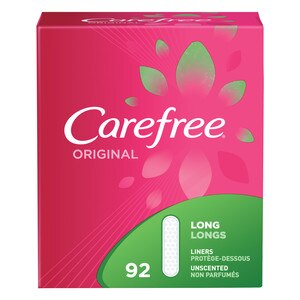 Carefree Original Long Pantiliners, 92 CT
Carefree
Free shipping with $35+ orders
Limit 6 per order
Prices may vary from online to in store.
What are panty liners?
Panty liners are thin, absorbent pieces of material that provide an extra layer of protection on top of your underwear. Panty liners come in many different shapes and sizes to cater to the needs and lifestyles of all women. From thin and unscented to extra-long and scented, there is a panty liner perfect to help you feel fresh and dry all day.
What are panty liners used for?
There are many different reasons why women use panty liners. Their main purpose is to wick away any moisture in your panties throughout the day. Women may wear panty liners daily to manage discharge, use with tampons to catch menstrual leakage, for feminine odor control, bladder leakage, and protection from spotting or a light menstrual flow.
Panty Liners Vs Pads
Both pads and panty liners serve the same purpose – leak protection. Panty liners are normally for everyday use to stay fresh and dry due to their thin, flexible, and absorbent design. Pads, on the other hand, are typically used exclusively for menstrual support since they have higher absorption capabilities and tend to be thicker.
How often should I change my panty liner?
It is best to change your liner every four hours when you are on your period to feel fresh and dry all day. You may need to change your liner more often if you are having a heavier flow. If you are just wearing a panty liner to protect against daily feminine hygiene issues, it may only be necessary to change your liner once a day.
Related Searches
bladder leakage pads, u by kotex, thong liners, carefree panty liners, always panty liners, best pads for women