Showing 1-20 of
36 products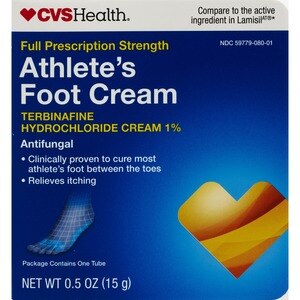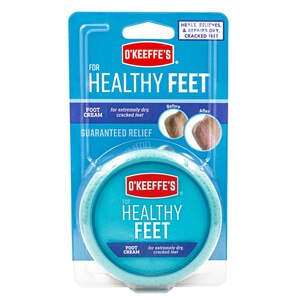 O'Keeffe's Healthy Feet Foot Cream, 2.7 OZ Jar
O'Keeffe's
Limit 6 per order
CVS Health Lidocaine Foot Pain Cream, 4 OZ
CVS Health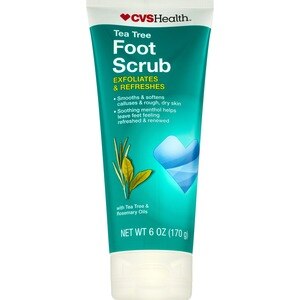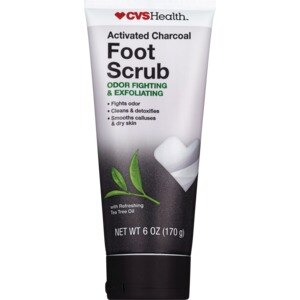 CVS Health Activated Charcoal Foot Scrub
CVS Health
Limit 6 per order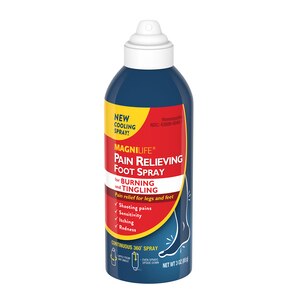 MagniLife Pain Relieving Foot Spray, 3oz
Magnilife
Free shipping with $35+ orders
Limit 4 per order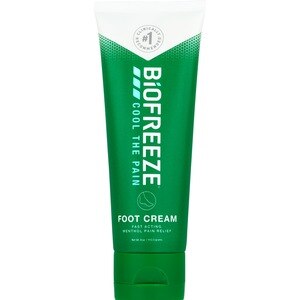 Biofreeze Pain Relieving Foot Cream, 4 OZ
Biofreeze
Free shipping with $35+ orders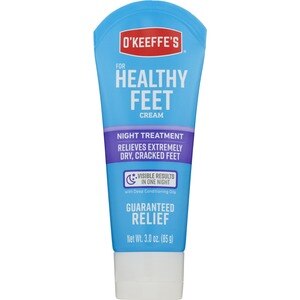 O'Keeffe's Healthy Feet Night Treatment, Foot Cream. 3 OZ
O'Keeffe's
Free shipping with $35+ orders
Amope Pedimask, 20-minute foot mask, 1 Pair
Amope
Free shipping with $35+ orders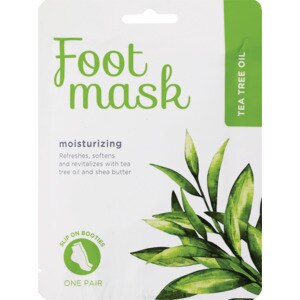 CVS Health Foot Mask, Moisturizing, Tea Tree Oil, 1CT
CVS Health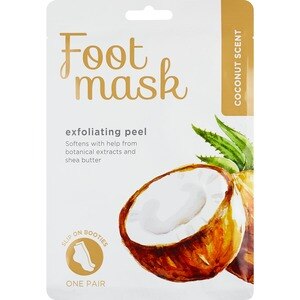 CVS Health Foot Mask, Exfoliating Peel, Coconut Scent, 1CT
CVS Health
Prices may vary from online to in store.
Foot Cream
Foot care problems that affect the skin can cause discomfort like itching and pain. In addition, problem skin on the feet can be an eyesore, making you hesitant to go barefoot or wear sandals in the summertime. Fortunately, you can address skin care concerns on your feet with the right foot care products. CVS carries foot creams that address many common concerns and makes it easy to order the products you need online.
Moisturizing Foot Cream
Dry skin is very common on the feet and can lead to itching, cracking and thickness of the skin. Foot creams with moisturizers can address dry skin and ease its symptoms. These products typically contain emollient ingredients that provide instant hydration to soften and moisturize the skin. They may also contain humectants to help moisture bind with the tissue and occlusives to seal in moisture and reduce the risk of future dryness.
Exfoliating Foot Cream
Exfoliating foot creams can be used to address a number of problems, including flaky skin, thickened skin and calluses. These creams often contain chemical exfoliators like glycolic acid or alpha hydroxy acid. Upon application, the active ingredients break the bonds that hold dead skin in place, allowing it to be shed. Other exfoliating creams remove dead skin through friction produced by salt, sugar, crushed nut shells and other small particles.
Foot Pain Relief Cream
When foot pain interferes with your daily activities, you can use foot creams for relief. Medicinal foot pain creams typically contain topical anesthetic medications like lidocaine that temporarily promote pain relief topically. You can also find natural products that contain herbal ingredients believed to address foot pain.
Athletes Foot Cream
Athlete's foot is a fungal infection that develops on the feet, causing itching, burning and cracking of the skin. Oftentimes, over-the-counter antifungal creams are effective at clearing up athlete's foot infections. The creams contain antifungal medications that alleviate symptoms associated with athlete's foot.
Best Foot Cream
If you've developed a new foot care problem, it's important to discuss it with your health care provider before trying to address it with foot creams. Your medical provider can diagnose the problem and recommend the best products for addressing it. Even the most effective foot creams cannot deliver results if used incorrectly. That's why you should always follow the directions for use provided by the manufacturer unless a medical professional gives you other advice.
Related Searches
Antifungal Cream
,
Foot Spa
,
Shoe Inserts & Insoles
,
Foot Corn Treatment & Callus Removal
,
Footwear & Accessories
,
Foot Spray & Powder