Showing 1-5 of
5 products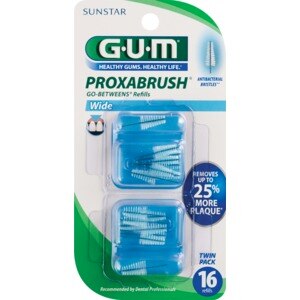 Gum Prox Go-Between Refill Wide, 16ct
GUM
Buy 1, Get 1 50% Off - Add 2 or more to qualify!
Limit 3 per order
Prices may vary from online to in store.
Dental Accessories
Brushing your teeth is just the start of a complete oral care regimen. Dentists frequently recommend other products for promoting healthy teeth and gums. CVS makes it simple to purchase the dental accessories that your dentist suggests with a diverse assortment of products that you can shop online and have delivered right to your door.
Interdental Cleaning Tools
Cleaning between your teeth is important for your oral health, as bacteria and debris from food can accumulate there and contribute to gum disease and tooth decay. There are a number of dental accessories designed to help you clean between your teeth. You can purchase tiny brushes that allow for precise cleaning. Picks with small flexible points are another option. Typically, interdental cleaners are designed for just one use and come in a multi-pack.
Emergency Dental Repair Kits
Dentures, bridges, crowns, fillings and other types of dental work allow you to have an attractive smile. Unfortunately, these appliances can become damaged by foods that you eat, impact to your mouth or the effects of ageing. When dental work breaks, you may find it difficult to chew, and your appearance may be impacted. Dental work repair kits allow you to temporarily mend damage and address these problems until you can make an appointment to see your dentist.
Accessories For Dental Tools
Some dental accessories are made for use with other common oral care tools. Toothbrush shields and covers protect the bristles of toothbrushes from damage and germs. You may choose to use one every day at home or when you travel. Replacement brush heads and flosser tips are available to keep electronic toothbrushes and water flossers functioning at their best.
Dental Guards
Many people suffer from bruxism or grinding or clenching their teeth. The problem is often worse at night, and over time can lead to headaches, jaw soreness and damage to the teeth. Stress, tobacco and alcohol use, sleep disorders and bite abnormalities can all contribute to grinding. If you grind your teeth, your dentist may recommend that you wear a guard to protect your teeth while you sleep. You can find a diverse assortment of dental guards here at CVS.
Dental Accessories For Braces
People who have braces or other orthodontic appliances may require special dental accessories. Wax can be used to cover metal brackets and wires to reduce irritation of the gums, lips and other soft tissues in the mouth. Threaders can make it simpler to use dental floss around orthodontic appliances.
Related Searches
Breath Fresheners
,
Dental Floss
,
Cold Sore Relief
,
Denture Care
,
Dental Night Guard
,
Mouth Guard