Showing 1-20 of
51 products
Men's Shave Creams & Gels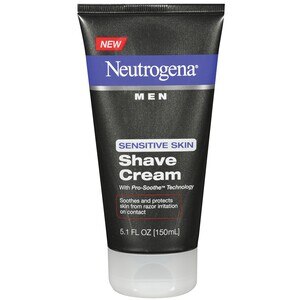 Neutrogena Men's Shaving Cream for Sensitive Skin, 5.1 OZ
Neutrogena
Limit 6 per order
Prices may vary from online to in store.
What Is Shaving Cream For?
Shaving cream, or shaving gel, is used to help lubricate the slide of the blade and facilitates a close, clean cut on hair follicles. Shave cream or gel also aids in retaining moisture which can help reduce nicks and cuts on your skin, making for a more pleasant shaving experience overall. Shaving cream is sprayed throgh a nozzle by the use of propellants such as iisobutane. This crucial propellant allows for full squeeze of shaving cream to be dispensed, as well as creates the foamy viscosity used to spread the shaving cream to the area of choice. Additionally, shaving cream or gel helps you keep track of where you've already shaved – once you run your razor over a spot, the lather will disappear along with your hair, leaving behind smooth skin that gives you a clear visual cue.
Types of Shaving Cream
CVS offers two main types of shaving cream: traditional shaving cream, sometimes called shaving foam, and shaving gel. Shaving cream is often foamy and is characterized by a light, airy lather that foams up almost instantly. Shave gel forms a richer lather and almost always contains emollients to help soften and moisturize the skin. Shaving cream and shaving gel for men are both designed to help you get a close, comfortable shave.
Shopping for Shaving Cream
If you aren't sure whether you should be using a mens shaving cream or shave gel, why not try both and see which you feel more comfortable using? Signs of a good shave include very few or zero nicks, little to no irritation, and a soft, smooth feel to your skin. That said, if you find that you are prone to nicks and cuts, shaving gel is probably a better choice for you, since it offers more protection for your skin than shaving foam. If you have sensitive skin, you should look for shaving gel for sensitive skin. If you prefer to use a foaming shaving cream, Barbasol Sensitive Skin Shaving Cream is a highly rated choice. Some other popular brands include Gillette shaving cream, Edge shave gel, and Noxzema shaving cream. No matter which product you choose, be sure it delivers a great shave every time – you and your skin deserve it!
How Much Is Shaving Cream & Gel?
Shaving gel and shaving cream price is generally less than $10, with many products costing as little as $3 - $5. In some cases, coupons and sales may be able to lower your costs even further.
Where To Buy Shaving Cream & Gel
You can buy cheap shaving cream and shave gel at your local CVS store. You can also order many of your favorite shaving creams and gels online and we will ship your purchase right to your door!
Related Searches
best shaving cream for sensitive skin, best shaving gel for men, men's razors, best shaving cream, mens shaving kit, mens shaving cream for sensitive skin