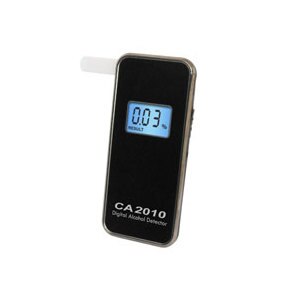 AlcoHAWK CA2010 Breathalyzer
Why guess? Test your Blood Alcohol Concentration (B.A.C.) with confidence using AlcoHAWK Breathalyzers! The AlcoHAWK CA2010 Digital Breathalyzer accurately tests for the presence of alcohol and quickly provides an estimate of your Blood Alcohol Content (BAC).With a one-button operation, simply insert a mouthpiece, slide up the power button and blow through the mouthpiece to achieve a BAC results in seconds. The CA2010 boasts an elegant and sophisticated design with a titanium-colored glossy front panel and soft grip back panel. The unit's dual LCD lights indicate when an error is detected and the small size and affordability make it perfect for anyone! The AlcoHAWK CA2010 is cleared by the Department of Transportation (DOT) as a breath alcohol testing device and may be used in a variety of settings where trusted results are valued such as hospitals, clinics, schools, party host/hostess and for personal testing.
Quick, easy and accurate breath alcohol testing is at your fingertips! The AlcoHAWK CA2010 operates with a 1 button operation for testing in seconds. After sliding up the ON/OFF button on the side of the unit the breathalyzer will count from 000 to 100 while it warms up and prepares the sensor for testing. The unit will give an audible beep and the end-user will take a deep breath and blow SLOW and STEADY for 5 seconds as the unit will give a second beep to signal completion of the testing. In seconds, the unit will give the BAC measurement from 0.00 to 0.40 %BAC.