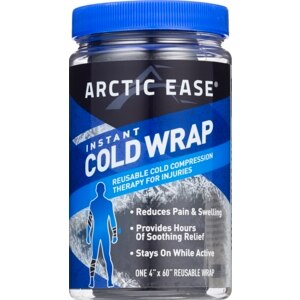 Arctic Ease Cold Wrap Pink
ARCTIC EASE® WRAPS ARE AN EASY AND EFFECTIVE TREATMENT THAT PROVIDE HOURS OF COOL RELIEF FROM PAIN AND SWELLING WITHOUT THE DISCOMFORT OF ICE, FROZEN GEL PACKS OR THE IRRITATION AND ODOR OF MENTHOL.

Arctic Ease® cold wraps absorb heat energy from the body. The absorbed heat is then removed by evaporation allowing for hours of targeted cold therapy.

Arctic Ease® wraps are a two-in-one solution, that provide cryotherapy and compression. Cryotherapy and compression help by reducing pain and swelling, whether from arthritis, muscle pains, strains, sprains, repetitive motion injuries, or bruises.

Once Arctic Ease® wraps are applied, they'll stay where you put them without the need for tape or clips. Arctic Ease® wraps can be used before, during and after exercise. Arctic Ease® wraps are odor free and contain no medications, menthol, or alcohol. Best of all, the Arctic Ease products can be safely worn for hours!

Arctic Ease products are made in America and contain No Parabens, Synthetic Fragrance, Sulfates, Paraffins, DEA, Petrolatum, or Mineral Oil.

And did we mention that they're re-usable? Just follow the package directions.
Contains: Water, Cotton and Proprietary Ingredients. No Active Ingredients.
Usage: Remove wrap from container, unroll, and apply directly on affected area using figure-8 wrapping technique, apply pressure for 2-3 seconds to affix the end.

For Reuse: Reroll the wrap and place in container. Add 1 to 2 teaspoons of water; place the cap back on to reseal the container. The wrap can be left in the sealed container at room temperature. Allow 2 to 3 hours for the wrap to rehydrate before use.
For external use only. Do not use with open wounds/cuts or damaged skin. Avoid direct contact with eyes/mucous membranes. Stop use if rash or irritation occurs; consult a doctor if needed. Keep out of reach of children. Do not eat (if swallowed, seek medical assistance immediately). Do not freeze. Do not launder.