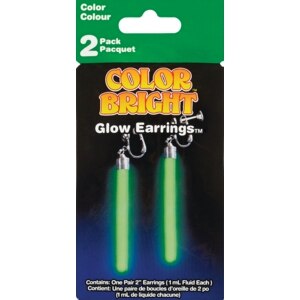 Betta Glo Fun Green Clip-On Earrings
Glows for hours. Non-toxic. Contains: One pair 1-1/2 inch earrings (1.6 ml total fluid). Made in China.
Choking Hazard - Small parts not for children under 5 years. Keep product in original packaging until ready to use. Do not cut or puncture plastic tube. Do not bend product a second time after activation. Contents of tube are non-toxic and non-flammable, but may stain furniture and clothing permanently. Skin or eye contact may cause temporary discomfort. Rinse thoroughly with water. Do not drink or ingest contents. Do not expose product to high temperatures or direct sunlight.