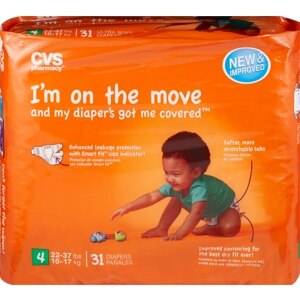 CVS Diapers Size 4 (22-37 lbs)
I'm on the move and my diaper's got me covered. Enhanced leakage protection with smart fit size indicator. Softer, more stretchable tabs. Improved contouring for the best dry fit ever! Our smart fit indicator lets you know when your baby is ready to move up a size. 31 ultra soft diapers. Softer, more stretchable tabs. Contour fit on sizes 3-6. Back elastic. Super absorbent core. Soft front tabs. This product is perfume & latex free. Made in the USA.
To avoid danger of suffocation, keep this and any plastic bags away from children and pets. Choking can result from anything children put in their mouths. To avoid the risk, do not allow your baby to tear or play with diapers. Discard any torn or unsealed diaper. Like most clothing, diapers will burn if exposed to flame. Always keep your child away from any source of flame. Please: Before disposing of dirty diapers, empty soil into toilet. Then wrap in the waterproof backing before discarding in waste receptacle. Do not flush diaper. Please do not litter. If you notice a small amount of gel-like material on your baby's skin, don't be alarmed. This comes from the diaper padding and can be easily wiped away. Do not wear in swimming or wading pools, diaper will absorb water and become very heavy.