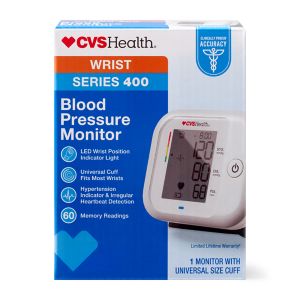 CVS Automatic Wrist Blood Pressure Monitor, One Size Fits All
5.3 - 7.7 inch. Easy monitoring, wherever, whenever. Clinically proven accuracy. Easy 1-touch operation. Hypertension indicator. 99 memory recall. Wrist monitors are lightweight and great for travel. The CVS/pharmacy Automatic Wrist Blood Pressure Monitor fits almost any body type, is easy to take anywhere, and displays accurate readings in just one touch. Featured Benefits: Memory recall stores up to 99 readings; Memory average function averages last 3 readings; Easy-to-use one touch operation, just press start; Time and date stamp to track readings; Automatically adjusts to the proper amount of pressure for a personalized, accurate reading; Large LCD screen for easier reading; Hypertension indicator compares readings to defined levels established by the US National Institutes of Health; Latex free. Advanced Technology: Hypertension indicator provides a helpful cue if your reading falls into one of the stages that could potentially indicate increased risk. P - prehypertension; 1 - Stage 1 hypertension; 2 - Stage 2 hypertension. Home blood pressure monitors help you measure your blood pressure in a comfortable environment, making it easy for you to track changes, keep a record for your doctor, and help you manage your overall health. Includes: wrist blood pressure monitor; storage case; 2 AAA alkaline batteries; instruction manual. Product utilizes technology that has been clinically proven to meet the standard of the Association for the Advancement of Medical Instrumentation (AAMI). Complete instructions included. Made in China.
Step 1: Apply the cuff so that the display is facing you and is about 1/4 inch - 1/2 inch from your hand. Fasten the cuff securely around your wrist. Step 2: Place your elbow on a table so that the cuff is at the same height as your heart. Step 3: Push the start button. Read instructions carefully before use.
It is recommended that persons with severe hypertension, severe diabetes, or severe arteriosclerosis consult their physician prior to measuring blood pressure at the wrist.