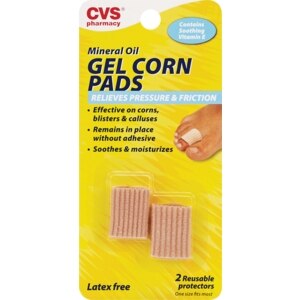 CVS Corn Protectors One Size
Mineral oil. Contains soothing vitamin E. Relieves pressure & friction. Effective on corns, blisters & calluses. Remains in place without adhesive. Soothes & moisturizes. Latex free. 2 reusable protectors. One size fits most. Hypoallergenic. CVS/pharmacy Gel Corn Pads provide relief and comfort for toe blisters, corns and calluses. Suitable for most shoe types and sizes, the corn pads have a smooth surface so they won't snag on hosiery or socks, and they contain a moisturizer that softens your skin. Washable and reusable. Made in the USA.
1. Wash and dry your foot (or hand) thoroughly. 2. Slip the pad over affected toe (or finger) so gel is in direct contact with affected area. Do not place this product over open wounds. 3. Remove pad for at least four hours daily to allow skin to breathe. 4. Before reusing, hand-wash the pad, let air-dry and sprinkle lightly with talcum powder (sold separately).
If you have diabetes or poor circulation, consult your physician before using this product. If pain, numbness, discoloration, or irritation occurs, discontinue use immediately. If foot problems persist, consult a medical professional. Keep out of reach of children & pets.