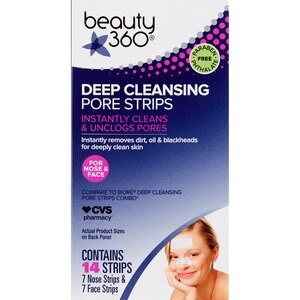 CVS Deep Cleansing Pore Strips Combo Pack Nose And Face
For nose & face. 7 Face strips & 7 nose strips. Cleanses & minimizes. Use our combo pack for deep cleaning of both nose & face. Unclog pores & instantly remove blackheads, oil and dirt for cleaner. diminished looking pores. Don't let clogged ruin your life. CVS/pharmacy deep cleaning pore strips instantly remove dirt, oil and blackheads which clog pores. When used weekly, CVS/pharmacy deep cleaning pore strips are as effective as the leading pore cleansers at removing build-up and blackheads. When used regularly. CVS/pharmacy deep cleaning pore strips diminish the appearance of pores. Do not use more than once every three days. Made in Japan.
Product Type:

Cleansing

Ship & Save:

Ship & Save Eligible
Polyacrylic Acid, Water, Silica, Titanium Dioxide, Betaine, PEG-10 Laurate, Fragrance, Saxifraga Sarmentosa Extract, Methylparaben, Ethylparaben, Propylparaben, Butylparaben.
1. Thoroughly wash your face, making sure to remove any creams, lotions or make-up. 2. Thoroughly wet your nose or other face area where strip is to be applied. The strip won't stick if skin is dry. 3. Dry hands, then open packet and peel strip off plastic liner. Apply strip to skin with shiny side towards skin. Smooth down to ensure good contact with skin. 4. Let dry for 10 to 15 minutes until stiff. 5. Slowly and carefully peel off strip starting at edges and pulling toward center. If strip adheres too strongly, thoroughly moisten strip and slowly peel off. Do not force strip.
1. For nose strip, use only on nose. 2. For face strip, avoid using around eye area. 3. Avoid using on pimples, inflamed blemishes, sunburned or excessively dry skin. 4. Avoid using on skin currently being treated with acne medication. 5. Avoid using on skin that is sensitive to bandages, tape or peel-off masks. 6. Remove strip promptly after it becomes stiff. If strip adheres to skin, moisten strip thoroughly and gently peel off. Force ful removal of the strip may cause skin abrasions. If this occurs, consult a physician and discontinue use. 7. Do not use more than once every three days on nose or the same area of the face.