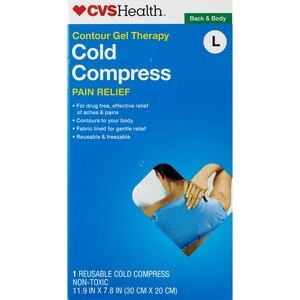 CVS Gentle Fabric Cold Compress Soothing Pain Relief Large
Soothing pain relief. Apply directly to skin without the burn. Contours to your body & stays dry. Acts as an effective treatment of aches, pains, & swelling. CVS pharmacist recommended. Cold therapy is recommended by medical professionals as an effective treatment of aches, pains and swelling. CVS/pharmacy Large Gentle Fabric Cold Compress is a quick and convenient way to administer cold therapy to: sprains & strains; muscle spasms; insect bits; headaches & minor injuries; bumps & bruises. FSA eligible. Made in Canada.
For Use: 1. Place gel compress in freezer to cool for at least two hours. 2. Directly apply gel compress to injured area. 3. Do not apply compress for longer than 25 minutes. 4. Remove compress and place back in freezer to cool for a minimum of 30 minutes before reapplying to injured area. To Care, Clean & Store: 1. Keep CVS/pharmacy Large Gentle Fabric Cold Compress in freezer between uses for immediate relief upon injury. 2. Hand wash with mild soap and lukewarm water to clean, then lay flat to dry. 3. Dispose of compress if punctured or torn. Contents are non-toxic. (Please see compress for detailed instructions on proper use. Always consult a medical professional regarding treatment of injuries, pain or soreness. CVS/pharmacy Large Gentle Fabric Cold Compress is not meant to be used as a substitute for professional medical advice.)
Individuals with known or suspected circulatory problems should not use cold compress therapy unless supervised by a physician. To avoid frostbite, cold therapy should not exceed 25 minutes at a time. Do not apply excessive weight to compress by sitting or leaning on compress to leak or burst. For external use only. Adult supervision is recommended when using on children. Cold compress is not meant for hot or warm therapy - do not heat in the microwave. If condition persists after cold therapy, consult your physician.