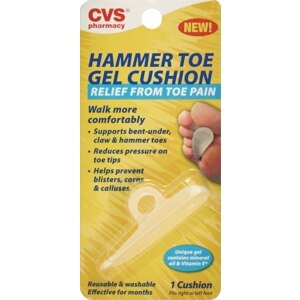 CVS Hammer Toe Gel Cushion
Fits right or left foot. Relief from toe pain. Walk more comfortably. Supports bent-under, claw & hammer toes. Reduces pressure on toe tips. Helps prevent blisters, corns & calluses. Unique gel contains mineral oil & vitamin E (Mineral oil and vitamin E moisturize the skin and help to soften and soothe areas that may be dry and rough). Reusable & washable. Effective for months. Soft, flexible CVS/Pharmacy Hammer Toe Gel Cushion helps relieve hammer, bent-under and athletic toes. Reduces pressure on toe tips and stress on metatarsal bones. Makes walking easier and pain-free. Made in Taiwan and/or USA.
Product Type:

Cushions

Formulation:

Gel

Quantity:

1-10 CT

Concern:

Corns & Bunions, Blisters, Dryness
With the wide end pointing toward the big toe and the flat side facing the floor, position cushion under the little toes. Slip toe loop over second or third toe. Pull on hosiery carefully and readjust as needed. Gradually extend wearing time until all day use is comfortable. Care: Washable and reusable. Hand wash. Air dry completely before reuse. Sprinkle with talcum powder if gel becomes tacky.
Do not place product on an open wound. If irritation, discomfort or poor circulation occurs, discontinue use immediately.