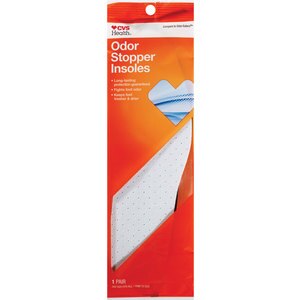 CVS Odor Preventing Insoles
Fights odor-causing bacteria. Vented cushioning foam keeps feet cool and dry. Absorbs perspiration. Long lasting foam cushions every step.
There is a pair of insoles in this package outlined with M for men and W for women. Cut your specified size using sharp scissors. Insert in shoe with fabric side up. The uncut insole is men's size 12-13. For maximum comfort, keep a pair in every pair of shoes, and leave in shoes when not being worn. Washable and easy to keep clean: Hand wash in lukewarm water and mild soap. Rinse in clean water; pat dry between folds of a towel.