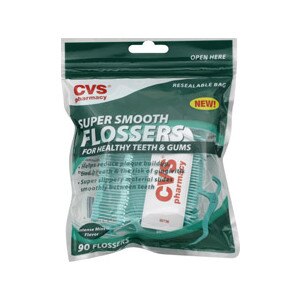 CVS Super Smooth Flossers for Healthy Teeth & Gums
For healthy teeth & gums. Helps reduce plaque buildup, bad breath & the risk of gingivitis. Super slippery material slides smoothly between teeth. Lightly waxed super slippery material is designed to slide easily between teeth without shredding. Use daily to help reduce plaque buildup and the risk of gingivitis. Made in China.
Guide floss between teeth. Floss in gentle back and forth, up and down motion along side each tooth. Dispose of each flosser after use.
Do not use if tamper evident seal is broken.