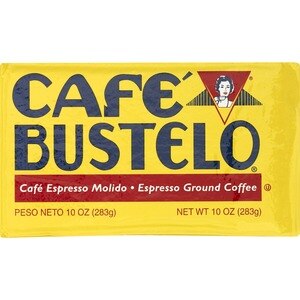 Cafe Bustelo Ground Coffee Dark Roast
Special for espresso coffee. 100% Arabica coffee. Cafe Bustelo is a blend of the finest coffees in the world. Cafe Bustelo is a dark roast coffee specially roasted for Demi-taste or Espresso. Brew it according to your favorite methods. Use one generous tablespoon of coffee for each demi-tasse cup of water. Always fresh, pure and flavorful. Vacuum packed.
Brew Cafe Bustelo Espresso Coffee in the usual way. Serve hot in demi-tasse cups and top with warm (not boiled) milk, or whipped cream. Sprinkle with cinnamon. Store in refrigerator.