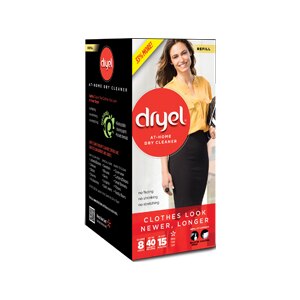 Dryel In-Dryer Cleaning Refills Clean Breeze
Dryel, the #1 at home dry cleaning product offers convenience and savings. Clean garments and special care fabrics in just 15 to 30 minutes from the comfort of your own home, for a fraction of the cost. At 25 cents a garment, you save up to 90% vs. going to the dry cleaner. Go ahead and eliminate trips to the dry cleaner, that is one less task on your lenghty to do list. Worry free dry cleaning, no shrinking, no stretching and no fading.
Cleaning Cloth contains water, cleaning agents, preservatives, a fiber protection agent and perfume. Booster Spray contains water, biodegradable cleaning agents and preservatives.
1. ZIP IT: Pre-treat stains and heavily soiled areas with Dryel Booster Spray. Add 1 to 5 garments and 1 Ultracleaning cloth to the reusable fabric protection bag (fabric protection bag available in starter kit). 2. STEAM IT: Tumble in dryer on medium heat for 15 minutes to renew and refresh or for 30 minutes to deep clean. 3. WEAR IT: Promptly hang garments to help wrinkles fall out. Your clean and fresh clothes are ready to wear!
Do not use on: Leather, Velvet, Suede, Fur, Silk or Rayon. KEEP OUT OF REACH OF CHILDREN. In case of eye contact with solutions, rinse thoroughly with water.