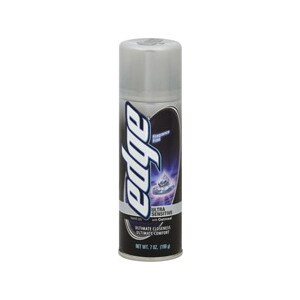 Edge Advanced Gel Ultra Sensitive Fragrance Free
Fragrance free! Fights Razor Bumps. Wont' clog pores. Edge Active Care Advanced Ultra Sensitive Gel is uniquely formulated to be non-irritating and to fight razor bumps on even the most sensitive skin. The Ultra Sensitive formula contains no dyes or perfumes that can irritate extra sensitive skin and it won't block pores. A special blend of moisturizing lubricants helps prevent nicks, cuts, and razor burn. No other shave gel or foam can give you a smoother, more comfortable shave. For Razor Bumps: The incidence of razor bumps can be significantly reduce by shaving every other day with Edge Active Care Advanced Ultra Sensitive Gel and a razor specially designed to fight ingrown hair. Contains no CFCs or other substances which deplete the ozone layer.
Product Type:

Shave Cream

Formulation:

Gel

Quantity:

6-10 OZ

Ingredient Preference:

Fragrance-Free

Skin Type:

Sensitive
Water, Palmitic Acid, Triethanolamine, Stearic Acid, Pentane, Sunflower Oil Monoglycerides, Sorbitol, Phenylcarbinol, 1-Dodecanol, Allantoin, Cellulose Polymer, Benzaldehyde, Triclosan, Glycerin, Oat Flour, Isobutane.
Leave skin wet. Put gel on fingertips. Gently rub over skin to lather and shave.
Contents under pressure. Do not puncture or incinerate. Do not store at temperature above 120 degrees F as container may burst. Avoid extreme cold. Do not immerse in water. Avoid prolonged exposure to water. Discard can upon rusting. Use only as directed. Keep out of reach of children.