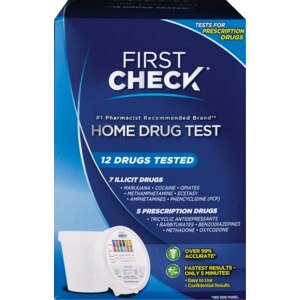 First Check Home 12 Drug Test
Tests for prescription drugs. 12 drugs tested.
7 Illicit Drugs:
Marijuana
Cocaine
Opiates
Methamphetamine
Ecstasy
Amphetamines
Phencyclidine (PCP)
5 Prescription Drugs:
Tricyclic antidepressants
Barbiturates
Benzodiazepines
Methadone
Oxycodone
Over 99% accurate (As accurate as a lab screening. Clinical studies confirmed that the First Check test is over 99% accurate. We recommend all preliminary positive screening results be sent to the laboratory for free confidential confirmatory testing.
Gas chromatography/mass spectrometry (GC/MS) is the gold standard in laboratory testing for most drugs. Confidential confirmatory testing is included in the purchase price of the First Check Home Drug Test) results in 5 minutes. First Check offers a variety of home drug testing solutions, providing results in just 5 minutes for the possible use of 7 illicit drugs and 5 prescription drugs that are most commonly abused.
Drug:
Marijuana
Identifier:
THC
Street names:
Pot, grass, weed, dank, ganja, bud, hydro, zig zag.
Drug:
Ccocaine
Identifier:
COC
Street names:
Ccoke, racehorse charlie, yeyo, blow, nose nachos, hooter, crank.
Drug:
Methamphetamine
Identifier:
MET
Street names:
Ccrystal, speedballs, crank, speed, glass.
Drug:
Amphetamines
Identifier:
AMP
Street names:
Speed, gaggler, black beauties, beanies, pep pills, lid poppers.
Drug:
Ecstasy
Identifier:
MDMA
Street names:
E, XTC, X, disco biscuits.
Drug:
Oopiates
Identifier:
OPI
Street names:
Gun powder, morphine, smack, H, courage pills, horse, bomb, heroin.
Drug:
Phencyclidine
Identifier:
PCP
Street names:
Angel dust, rocket fuel, wack, ozone, fry.
Drug:
Bbenzodiazepines
Identifier:
BZO
Street names:
Ddowners, tranks, benzos.
Drug:
Mmethadone
Identifier:
MTD
Street names:
Ddone, fizzies, chocolate chip cookies, juice, wafer.
Drug:
Bbarbiturates
Identifier:
BAR
Street names:
Barbs, birds, red devils, yellow jackets, block busters.
Drug:
Ttricyclic antidepressants
Identifier:
TCA
Drug:
Oxycodone
Identifier:
OXY
Street names:
Oxy, killers, OC, oxycotton.
Contents:
1 First Check drug test lid
1 cup for sample collection
1 instruction insert
1 pre-addressed mailing box
1 confirmation identification label
1 plastic transportation bag
Confidential confirmatory test included in purchase price
Made in USA.
Ship & Save:

Ship & Save Eligible
Step 1:
Collect sample.
Step 2:
Attach test lid, rest cup on legs.
Step 3:
Wait 5 minutes and read results.
Drug 1:
Negative result (line appears).
Lines on Control and Drug 1:
Preliminary positive drug 2 result (no line appears).
Lines on Control and Drug 2:
Preliminary positive drug 1 result (no line appears).
For in vitro diagnostic use. Store at 40 degrees F - 86 degrees F (4 degrees C - 30 degrees C). Do not freeze.