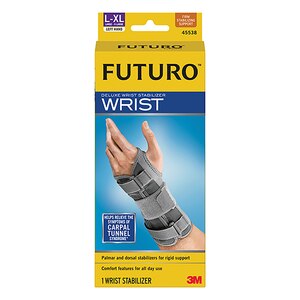 Futuro Deluxe Wrist Stabilizer Left Hand Large-X-Large
Helps relieve carpal tunnel syndrome. Comfort features for all day use. Doctor recommended to help relieve pain and swelling (Physicians often recommend the use of a rigid wrist brace during management of Carpal Tunnel Syndrome and other painful wrist conditions. If symptoms persist, discontinue use and contact a physician). Easy to put on and take off. Adjusts for customized fit and allows free movement of fingers. Made with latex free materials that are breathable, durable and soft. Comfort pad strap prevents irritation around thumb. Slide-guard fasteners for secure fit and ease of application. Palm padding uses comfortable, conforming memory foam. Palmar splint can adjust top optimize wrist position. Easy sleeve design for effortless application. Large/X-Large: 7.5-9.0 in. (19.0-23.0 cm). When to Use: This Futuro Deluxe Wrist Stabilizer helps provide comfortable protection and firm support to injured, weak, or post-cast wrists requiring rigid stabilization. For a comfortable night's sleep, try and Futuro Night Wrist Sleep Support - made with light, breathable materials and cushioning beads, it maintains your hand in the idea neutral position for maximum therapeutic benefit. Our expert panel of engineers and medical professionals bring innovative technology to every product we make. Package is recyclable. CE listed. Made in Taiwan for 3M.
Fiber Content: Polyester, Vinyl, Nylon, Neoprene, Polyurethane, Spandex.
1. Loosen all fasteners and the wrap-around strap. Slide hand into the stabilizer with wide vinyl strip running along palm side of wrist. 2. Stabilizer is properly positioned when thumb is in the thumb hole and the splint rests comfortably in the palm. Tighten fasteners. 3. Wrap the middle strap around wrist. Adjust all straps until fit is firm, yet comfortable. Size: Measure around the wrist at smallest point. Large/X-Large: 7.5-9.0 in. (19.0-23.0 cm). Washing: Remove metal splint and close all fasteners prior to washing. Hand wash with mild soap in warm (not hot) water. Rinse well and air dry. Do Not: machine wash, tumble dry, dry clean, or use bleach or fabric softener.
Some individuals may be sensitive to neoprene or neoprene-blend rubber. If a rash develops, discontinue use and consult a physician. If discomfort or pain results, persists or increases, discontinue use and consult a physician.