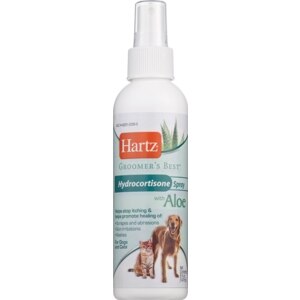 Hartz Hydrocortisone Spray with Aloe
For dogs and cats. May help stop itching & help promote healing of: Skin inflammation; Flea bite irritation; Rashes. Hartz cares about your pet almost as much as you do. That's why we've introduced Hartz Hydrocortisone Spray with Aloe. This formula may allow you to provide your pet with soothing, effective relief of itching or skin irritation with hydrocortisone and aloe. May provide temporary relief of itching or minor skin irritations, inflammation and rashes due to flea tick bites, scrapes and abrasions. Made in USA.
Hydrocortisone USP (0.5%), Aloe.
Hold sprayer 4 to 6 inches from affected area and apply directly. Apply 2-3 times daily to irritated area until relief is achieved.
For external animal use only. Avoid contact with eyes. Do not use where infection (pus) is present, since the product may allow infection to spread. If symptoms persist or if irritation develops or worsens, discontinue use of product and consult a veterinarian. In case of accidental ingestion, seek professional assistance or contact a Poison Control Center immediately. Keep out of reach of children. Clinical and experimental data have demonstrated that corticosteroids administered orally or by injection to animals may induce the first stage of parturition if used during the last trimester of pregnancy and may precipitate premature parturition followed by dystocia, fetal death, retained placenta, and metritis. Additionally, corticosteroids administered to dogs, rabbits, and rodents during pregnancy have resulted in cleft palate in offspring. Corticosteroids administered to dogs during pregnancy have also resulted in other congenital anomalies, including deformed forelegs, phocomelia, and anasarca.