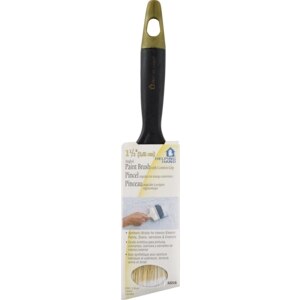 Helping Hand 1-1/2 Inches Angled Paint Brush with Comfort Grip
No. 32215. Synthetic bristle for interior/exterior paints, stains, varnishes and enamels.
Clean brush to the metal ferrule using stiff comb to reduce paint build-up. Brush Care: Rinse the brush in the paint manufacturer's recommended paint thinner. Latex: Water. Oil Base: Paint thinner or mineral spirits. Lacquer: Lacquer thinner. Store clean brush in this wrapper to maintain it's shape.