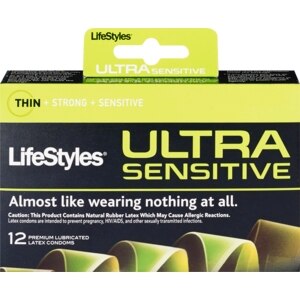 Lifestyles Ultra Sensitive Condoms Lubricated Latex
Feel good protection. Almost like wearing nothing at all! Chosen by more couples for sensitivity and pleasure! LifeStyles condoms deliver proven protection against pregnancy and, if used properly, will help reduce the risk of transmission of HIV (AIDS) infection and many other sexually transmitted diseases. Thin, but still offers the same safety and reliability as standard condoms. Specially lubricated for maximum pleasure. Low latex scent. Reservoir tip offers extra safety and comfort. LifeStyles unique, comfortable, stretchable latex and scientifically engineered condom shapes offer the safe, ultra sensual experience you've been looking for. LifeStyles condoms are tested to meet U.S. safety and reliability standards.
For maximum protection, carefully follow the usage instruction printed on inner side of carton. Avoid excess heat. Store at room temperature.
This product contains natural rubber latex which may cause allergic reactions.