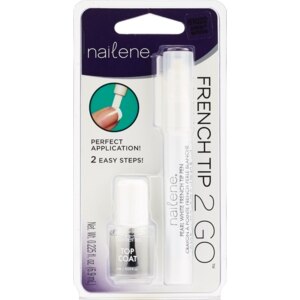 Nailene French Tip Pen Pearl White 61022
Mistake proof. With UV top coat. Hard & healthy. Contents: 1 pen [0.10 fl oz (2.9 ml)]; 1 top coat [0.125 fl oz (4.0 ml)]. For fingers and toes. Packaged in Mexico: Pen - Japan, Top Coat - USA.
Product Type:

Nail Art
Pen (White): Water, Titanium Dioxide, Ammonium Styrene/Acrylates Copolymer, Propylene Glycol, PEG-8 Dimethicone, Benzisothiazolinone. Pen (Pearl White/Pearl Pink): Water, Ammonium Styrene/Acrylates Copolymer, Mica, Titanium Dioxide, Barium Sulfate, Sodium Hexametaphosphate, Benzisothiazolinone. May Contain Red 7. Top Coat: Ethyl Acetate, Butyl Acetate, Cellulose Acetate Butyrate, N-Butyl Alcohol, Propyl Acetate, Trimethyl Pentanyl Diisobutyrate, Phthalic Anhydride/Trimellitic Anhydride/Glycols Copolymer, Acrylates Copolymer, Nitrocellulose, Isopropyl, Alcohol, Phenylpropyl Dimethicone, Etocrylene, Violet 2.
2 Easy Steps: Application: (Optional): Apply tip guides across curve of nails to separate tip area. Step 1: Actively shake pen. Press tip onto a protected surface for 30 seconds until tip is saturated with polish. When the tip is completely covered with polish, you are ready to use the pen. After prepping pen, apply two coats of Nailene's French Tip pen to nail tips. Let dry. Step 2: Apply one or two coats of Nailene's top coat over entire nail.
Flammable. Keep away from heat and flame. Avoid eye and skin contact. In case of contact, rinse with water for 15 minutes. If swallowed, call a physician. Use with adequate ventilation. Keep out of children's reach.