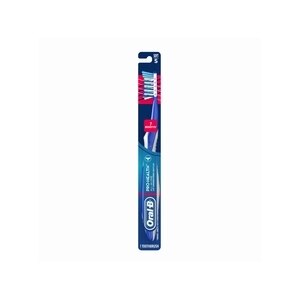 Oral-B Crossaction Pro-Health Toothbrush Soft Regular
Removes up to 99% plaque in hard-to-reach areas (based on a single use brushing study). Trust the brand more dentists use worldwide. Why is Pro-Health All-in-One right for you? It provides 7 benefits for a cleaner, healthier mouth: 1. Removes hard-to-reach plaque. 2. Reduces Gingivitis (Based on short-term [Less than or equal to 3 months] clinical data). 3. Cleans along the gumline. 4. Polishes away surface stains. 5. Removes odor-causing germs on tongue. 6. Stimulates gums. 7. Gentle on enamel and gums. Features: CrossAction bristles. Tongue & cheek cleaner. Soft gum stimulators. PowerTip bristles. Indicator bristles. The dental experts from Oral-B recommend using Crest Pro-Health toothpaste. For more oral care information visit: www.OralB.com.
Replace brush every 3 months.
Not intended for children 3 years and under.