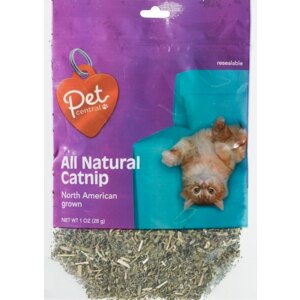 Pet Central All Natural Catnip
North American grown. Keep your pets happy and healthy with supplies from Pet Central, because pets are family too. Pet Central Catnip stimulates play and exercise. Just rub on toys and scratchers and watch your cat rolling, rubbing, running, leaping, having fun! Grown in Canada.
How to Use: Pick up a small amount of catnip between two fingers and roll around and press it. This will allow release of the oils in the catnip which makes it more potent. Sprinkle some on the floor, on scratchers or rub into some of your cat's favorite toys and watch your cat roll around and play. These effects will typically last between 10 to 20 minutes. It will take up to one to two hours before your cat will be attracted to the catnip again. Store in freezer to prolong potency.
Always supervise your pet when using this product. For playtime only. Keep away from children.