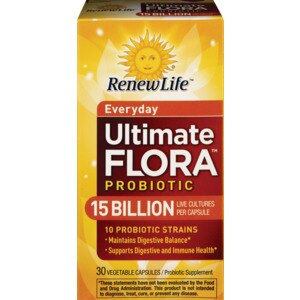 Renew Life Ultimate Flora Daily Care Probiotic Capsules
Ultimate Flora™ Daily Care Probiotic 15 Billion is a high-potency, once-daily probiotic supplement formulated for those seeking to maintain optimal digestion and regularity.* Each capsule contains probiotic strains and cultures carefully chosen for their natural presence in a healthy digestive system.


More cultures and strains per capsule
15 billion live cultures per capsule
10 specially selected Bifidobacteria and Lactobacillus probiotic strains work differently to help optimize digestive health*
Delayed-release capsule helps protect probiotics from harsh stomach acids and helps ensure optimal delivery to intestinal tract*
Potency guaranteed until expiration†
Health Goals
Maintain digestive balance*
Promote immune health*
Support regularity*
Suggested Use
For best results, take one capsule daily, with or without food.
Contains NO
GMOs, wheat, gluten, soy, dairy, eggs, shellfish, tree nuts, or artificial ingredientsManufactured in a GMP facility
Disclaimer: *This statement has not been evaluated by the Food and Drug Administration. This product is not intended to diagnose, treat, cure or prevent any disease. †Ultimate Flora Daily Care is formulated to provide 15 billion live cultures per capsule at time of consumption, if prior to expiration, under recommended storage conditions. Storage and handling conditions may vary, and may affect the total amount of cultures delivered at consumption.
Formulation:

Capsules

Health Goals:

Probiotics & Digestive Health

Quantity:

21-30 CT
Ultimate Flora Daily Care Blend: Bifidobacterium Lactis, Bifidobacterium Breve, Bifidobacterium Longum. Total Bifido Probiotic Cultures (9 Billion): lactobacillus Acidophilus, Lactobacillus Casei, Lactobacillus Plantarum, Lactobacillus Paracasei, Lactobacillus Salivarius, Lactobacillus Rhamnosus, Lactobacillus Bulgaricus. Total Lacto Probiotic Cultures (6 Billion). Total Bifido/Lacto Cultures (15 Billion [Ultimate Flora Daily Care is Formulated to Provide 15 Billion Live Cultures per Capsule at Time of Consumption, if Prior to Expiration, Under Recommended Storage Conditions, Storage and Handling Conditions May Vary, and May Affect the Total Amount of Cultures Delivered at Consumption]). Other Ingredients: Vegetable Capsule (Vegetable Fiber and Water), Cellulose.
For best results, take one capsule daily with a light meal. Store in a dry place at 73 degrees F (23 degrees C) or below. Best if refrigerated.
Warnings KEEP OUT OF REACH OF CHILDREN.WARNING: Consult your physician before using this or any product if you are pregnant, nursing, trying to conceive, taking medication or have a medical condition. Made in a facility that handles wheat, gluten, soy, and dairy. Individuals extremely sensitive to these ingredients should consult a physician prior to using this product.