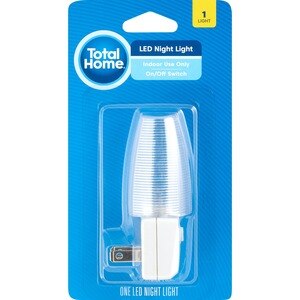 Total Home by CVS Basic White Night Light
On/off switch. Bulb included. Simple solutions for your home. Bulb Included: maximum 7 watts, type C7, 120V. UL listed. Made in China.
Risk of electric shock and fire hazard. This not a toy and is not intended for use by children. For adult use only. For safe use, plug only into exposed wall outlets where a device is ventilated and cannot contact bed coverings or other material. Do not use with extension cords. Match wide blade of plug to wide slot, fully insert. Use a maximum 7 watt replacement bulb. Never use a higher wattage bulb. To replace a bulb, unplug the night light, remove the plastic cover by sliding it off. State of California Prop 65: This product contains chemicals known to the state of California to cause cancer and birth defects or reproductive harm.