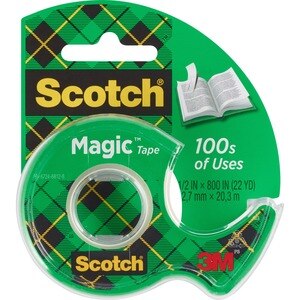 Scotch Magic Tape, 1/2 Inch
1/2 in. x 800 in. (22.2 yd). Photo safe. Matte finish Magic Tape. Scotch Magic Tape is the original matte finish, invisible tape. It's the preferred tape for offices, home offices and schools. Write on it with pen, pencil or marker. Made in USA.
To refill, grasp empty core with thumb and forefinger and pull. Push new roll onto posts. Refill with 1/2 inch tapes.