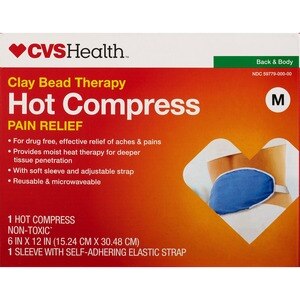 CVS Moist Heat Pain Relief Wrap
Deep penetrating pain relief. 1 back wrap. 1 velcro pouch. Reusable, clay-beaded therapy. Relief from muscle pain & stiffness. Convenient & portable. Compare to ThermiPaq Therapeutic Moist Heat Wrap (This product is not manufactured or distributed by Thermionics Corporation, owner of the registered trademark ThermiPaq). Get therapeutic pain relief that lasts. CVS/pharmacy Therapeutic Moist Heat Pain Relief Wrap contains moist heat beads composed of a ceramic compound that utilizes radiant energy to penetrate deeper than other moist heat applications. When warmed in the microwave, the moist heat beads transfer heat slowly and evenly to the affected area. The CVS/pharmacy Therapeutic Moist Heat Pain Relief Wrap: Delivers ideal heat, retaining a comfort level for up to 30 minutes. Provides a safe, easy-to-use solution without generating hot spots that harm the skin. Generates its own moisture. Conforms to the body. Soft, washable, latex-free cloth cover. Easy fastening. Filled with all-natural, clay-based beads. Non-toxic, biodegradable and environmentally safe. Complete instructions are enclosed. Recommended by health care professionals & sports authorities for home treatments. Offers soothing, moist heat relief from muscle pain and joint stiffness in your back. Also provides relief from: arthritis; sports injuries; muscle pain; joint stiffness; menstrual cramps; chronic back pain; sinus/stress headaches; post-surgery pain. Designed in consultation with physicians, chiropractors & physical therapists. www.cvs.com. Made in China.
Use as directed to avoid possible injury. Test temperature by applying wrap to sensitive skin, such as the underside of the wrist. Always test the wrap inside its cloth cover. If the wrap feels uncomfortable, remove for a few minutes and retest until comfortable. Do not use on infants. Pay special attention when using the wrap on young children and older people whose skin may be sensitive to temperature extremes. People with diabetes, circulatory problems, nerve damage, paralysis or insensitive skin should use only as directed by a physician. Consult your doctor before treating any serious injury or when pain persists. Do not use in conjunction with liniments, balms or lotions.