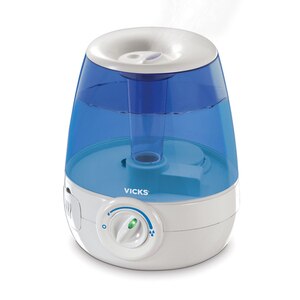 Vicks Filter Free Cool Mist Humidifier V4600
The Vicks Filter-Free Cool Mist Humidifier needs no replacement filters ever! Its 1.2 tank adds necessary moisture to the air, temporarily relieving dry air discomforts like cough and congestion. The V4600 is offers variable humidity controls and quiet operation.
1.2 gallon tank capacity, Holds up to 2 Vicks VapoPads for soothing comfort, Large tank runs up to 33 hrs per filling, Quiet operation, Variable humidity controls, Ideal for medium sized rooms
Scent Pad: Eucalyptus Oil, Menthol, Glycol, Cedar Leaf Oil & Others.
Read instructions carefully.