Showing 1-14 of
14 products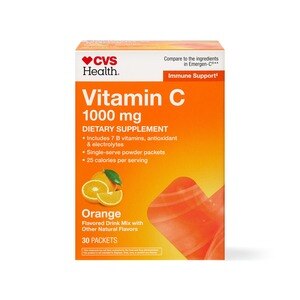 CVS Health Immune Support Vitamin C Fizzy Drink 1000mg, 36CT
CVS Health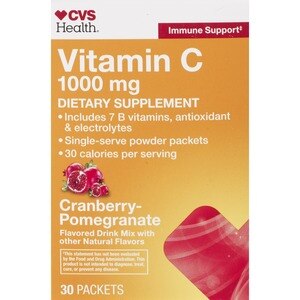 CVS Health Immune Support Vitamin C Fizzy Drink Packet
CVS Health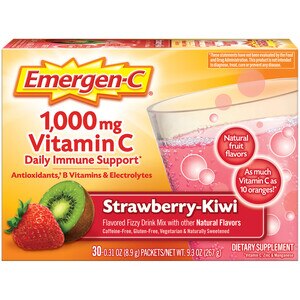 Emergen-C 1000mg Vitamin C Powder, Strawberry Kiwi Flavor, 30 CT
Emergen-C
Free shipping with $35+ orders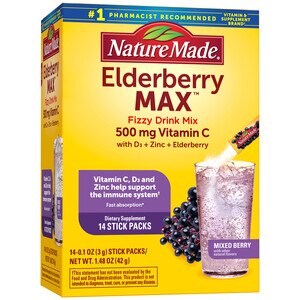 Nature Made ElderberryMAX Fizzy Drink Mix, 14 CT
Nature Made
Free shipping with $35+ orders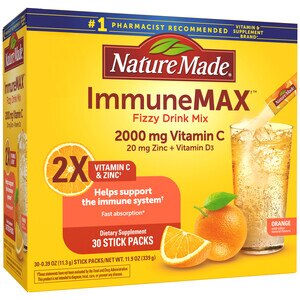 Nature Made ImmuneMAX Fizzy Drink Mix, 30 CT
Nature Made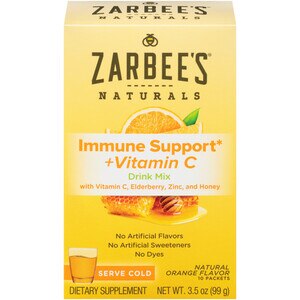 Zarbee's Naturals Immune Support* & Vitamin C Drink Mix with Zinc and Honey, Natural Orange Flavor, 10 Packets
Zarbee's Naturals
Free shipping with $35+ orders
Prices may vary from online to in store.
Types Of Vitamin C Powder
There are two main types of vitamin C powder. Pure vitamin C powder contains 100% vitamin C powder, and is not mixed with any additional ingredients. Buffered vitamin C powder contains vitamin C powder mixed with other minerals. Buffered vitamin C powder benefits include the fact that the supplement is easier to digest for those with a sensitive or compromised digestive system. Depending on the exact formula, buffered vitamin C powder may also provide a good source of additional vitamins and minerals. But which is the best vitamin C powder? One type is not better than the other. You should select your vitamin C powder based on which type best meets your individual needs. If you are unsure which type of vitamin C powder is right for you, do not hesitate to ask your doctor or pharmacist for advice.
Vitamin C Powder Benefits & Uses
Vitamin C powder has many uses for total body health. When taken orally, vitamin C may help protect the body from immune system deficiencies. Vitamin C powder can also be used either orally or topically for its skin care benefits, which may include helping to fight wrinkles and discoloration. Vitamin C powder can even be used for hair care! Read on to learn more about vitamin C powder uses and how to get the benefits.
Vitamin C Powder Packets
There are several reasons to choose vitamin C powder over vitamin C pills. If you have trouble swallowing pills, vitamin C powder is a good alternative option. Vitamin C powder also makes it easy to adjust your dose. If you think you may benefit from taking a vitamin C powder but aren't sure of the ideal dose for you or what form to take, do not hesitate to talk to your doctor or pharmacist. He or she can give you personalized advice that takes into account your unique needs. However, it is important to know that any form of vitamin C could interact with blood thinner medications. If you take blood thinners, you should not take any form of vitamin C without first talking to your doctor.
How To Take Vitamin C Powder
Taking vitamin C powder orally can help with a variety of health concerns, including helping to boost an immune system affected by stress, helping to reduce complications associated with the common cold, and even helping to fight signs of aging like wrinkles and skin dryness. But how exactly do you take vitamin C powder? Taking vitamin C powder is actually very simple! Just follow the instructions on the package for adding the directed amount of vitamin C powder to the directed amount of liquid and drink.
Vitamin C Powder For Face & Skin
When applied topically, vitamin C is thought to help brighten the complexion, assist with evening out skin tone and correcting brown spots, help protect against environmental damage, and help increase collagen production. However, vitamin C can easily lose its potency once oxidized. This means that in many cases, once you open a moisturizer or serum containing vitamin C, its beneficial qualities may fade quickly. One way around this is to use vitamin C powder, which does not have the same instability as other forms of vitamin C. To use vitamin C powder for face or skin care, simply mix a little bit of the powder with a small amount of your favorite moisturizer or serum before applying. Experts recommend using no more than a fifth of a teaspoon of vitamin C powder per one teaspoon of moisturizer or serum. You should be aware that if your moisturizer or serum contains certain ingredients, the vitamin C powder may become inactive, so you may not get the benefits. Additionally, using a vitamin C powder that is too potent or using too much of the powder could result in skin irritation. Vitamin C powder may not be effective for skin care applications in concentrations below 8% while concentrations over 20% may be irritating. Additionally, using vitamin C powder can make your skin more photosensitive, so be sure to wear sunscreen. If you have sensitive skin or if you have questions or concerns about use, it is best to speak to your dermatologist before adding vitamin C powder to your skin care routine.
Vitamin C Powder For Hair
If you've recently dyed your hair with temporary or semi-permanent hair dye but don't love the color, you can use vitamin C powder to help fade it away quickly. Mix one part vitamin C powder with two parts shampoo (clarifying or dandruff shampoo will pack an even bigger punch!) to create a paste. Apply it to your hair. Lather the mixture in, then leave it wrapped in a towel or shower cap for about an hour. When it's time, rinse your hair out, and much of the color should be removed, leaving you with a much more faded dye job. While the vitamin C method is much gentler than bleaching, it's still a good idea to follow up with a deep conditioner or hair mask to help replenish moisture and ward off damage.
Where To Buy Vitamin C Powder
You can buy vitamin C powder at your local CVS store. You can also purchase select products online and we will ship them right to your door!
Related Searches
natural vitamin c powder, face masks, hair dye, best anti wrinkle cream, vitamin c powder drink, emergen c vitamin c powder