Receive a $5 coupon and promotional
tote bag for participating.**
2016–2017 Screenings
Check back soon for our event calendar.
Have a 1-on-1 confidential consultation with a health care professional and find out if you qualify for health insurance savings. Plus, receive a FREE promotional tote bag and $5 coupon for CVS/pharmacy® Brand products.**
Available Health Screenings (select stores only):
HEALTH SCREENINGS*
Body mass index (BMI)
Blood pressure
Glucose†
Total cholesterol†
PLUS
Quit smoking support
Health insurance consultations
Diabetes resources
See how a health screening event works.
On the Path to Better Health
Each year, CVS/pharmacy hosts hundreds
of FREE health screenings events.
Health Observances
American Diabetes Month
National Alzheimer's Disease Awareness Month
National Family Caregivers Month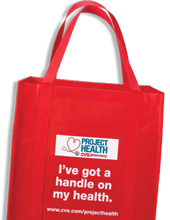 Carry us with you.
Get a $5 coupon and tote
bag for participating**
Talk to us!
Do you have questions, comments or feedback?
We'd love to hear from you.
Email Us
Events take place in 20 metro areas in the U.S.
and Puerto Rico. Find an Event
A Life-Saving Screening
Cornelius Raven attended a Project Health event where a screening showed he had very high blood pressure. He was immediately sent to the hospital where doctors found that he was having a stroke.

"My life was at stake," he says. "If you see a CVS/pharmacy screening event, check it out. It's free. And it can save your life."

Call 1-855-287-7867 to learn more about the free health screenings events.

*Children ages 7+ included with parental consent. Health screenings performed by medical professionals.
**Tote bag and $5 coupon available only after completion of the health screenings. Limit 1 coupon and 1 tote bag per customer, while supplies last. Coupon cannot be combined with any other CVS/pharmacy® coupons. ExtraCare® card must be presented to receive these savings. Offer expiration dates vary by month.
†CVS/pharmacy® measures total cholesterol. It does not offer a full lipid panel (HDL, LDL). For accurate screening results, it is recommended to refrain from consuming anything except water 8 hours before a glucose test and 9-12 hours before a total cholesterol test.