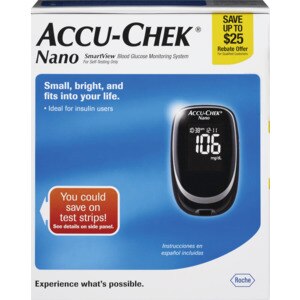 Accu-Chek Nano SmartView Blood Glucose Monitoring System
Small in size. Big in performance.

No coding
Brilliant backlit display
Uses ACCU-CHEK SmartView test strips, which offer advanced accuracy.
Preferred on the most healthcare plans to save you money2
Includes the ACCU-CHEK FastClix lancing device that is proven least painful and overall easiest to use3 and that uses ACCU-CHEK FastClix lancet drums
Pre- and post-meal markers and averages
1 or 2 hour post-meal reminder
Downloadable 500-value memory with 7-, 14-, 30-, and 90-day averaging
Fast, accurate results in 5-seconds
Small 0.6-uL sample size
No setup required for first test - meter is in test mode when taken out of the box
Includes an easy-to-use Quick Start Guide with step-by-step instructions
Also includes easy-to-use paper tools to help you better understand your test results, spot patterns, and help you lower your A1C.4
Meter and strip manufactured in the U.S.A.5
2Based on internal analysis of plans with 150,000 or more commercial pharmacy lives. Co-payments and preferred statuses vary from plan to plan.
3Ranked first most often versus leading competitors. Data on file.
4Polonsky WH, et al. Structured self-monitoring of blood glucose significantly reduces A1C levels in poorly controlled, noninsulin-treated type 2 diabetes: results from the Structured Testing Program study. Diabetes Care. 2011; 34(2):262-267.
5Using U.S. and imported materials.
Carefully read the owner's booklet before use. Store between -13-158 degrees F.
A restricted license limits use of the Accu-Chek Nano SmartView system (meter and test strips) and the Accu-Chek FastClix system (lancing device and lancet drums) in the United States. Carefully read the package insert and owner's booklet before use.