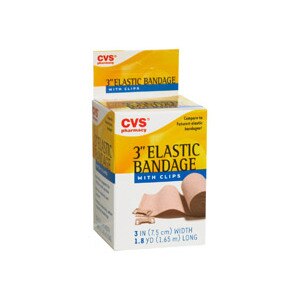 CVS Elastic Bandage With Clips 3 Inches
Provides support for strains and sprains. Can be washed and reused. Retains elasticity after repeated washings. Special clips enable the bandage to be easily secured. 3 inch width ideal for: ankle, knee, lower leg. 3 inch (7.5 cm) width - 1.8 yd (1.65m) long.
Cotton; Polyester; Rubber
Wear and care instructions enclosed. If pain increases or persists, discontinue use.
This product contains natural rubber latex which may cause allergic reactions.