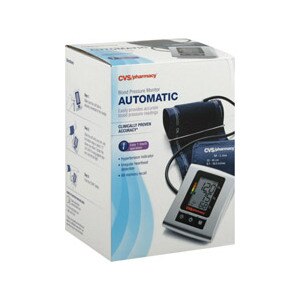 CVS/pharmacy Automatic Blood Pressure Monitor
Easily provides accurate blood pressure readings. Clinically proven accuracy (product using identical technology was tested by unaffiliated researchers). Blood Pressure Monitor Easy 1-touch operation. Automatic blood pressure monitors make monitoring easy. Our Automatic Blood Pressure Monitor accurately determines your blood pressure measurement with just a touch of a button. Featured Benefits: Memory recall stores up to 99 readings; automatically averages all stored readings; easy-to-use one touch operation, just press start; time and date stamp to track readings; automatically adjusts to the proper amount of pressure for a personalized, accurate reading; LCD screen displays easy-to-read digits; cuff fits most arm sizes (8.7-16.5 inches); latex-free. Advanced Technology: Hypertension Indicator uses bars on the display to show you the range in which your blood pressure lies according to standards established by the National Institutes of Health. Based on the number of bars, the readout value is either within the normal range, pre-hypertension (a potential for high blood pressure), stage 1 (moderately high) or stage 2 (extremely high blood pressure) range. Irregular Heartbeat Detection: Works while blood pressure is being measured. The symbol will appear next to your blood pressure reading, if an irregular heartbeat is detected. Home blood pressure monitors help you measure your blood pressure in a comfortable environment, making it easy for you to track changes, keep a record for your doctor, and help you manage your overall health. Includes: Blood pressure monitor; arm cuff; quick start guide; quick reference guide; instruction manual; 4 AA batteries; storage case. British hypertension society A/A grading (product using identical technology was tested by unaffiliated researchers). Made in China.
Step 1: Make sure the cuff tube is securely connected to the monitor. Step 2: Slide the cuff onto your arm until the bottom edge is about 1/2 inch above your elbow. Tighten the cuff until it is snug against your arm, but not too tight. Step 3: Push the start button. Complete instructions included. Read instructions carefully before use.