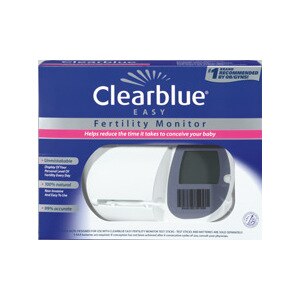 Clearblue Easy Fertility Monitor
You May Also Like
Size: 30 EA
$49.99

Clearblue Easy Fertility Monitor

Clearblue Easy Fertility Monitor helps maximize your chances of getting pregnant and monitors your hormones. It not only shows your two peak fertility days, it can also inform most women one to five days of high fertility prior to peak fertility. It stores information about your personal hormone patterns and personalizes itself.
Clearblue Easy Fertility Monitor is suitable for women whose natural cycle normally lasts between 21 and 42 days. Women who have recently been pregnant, stopped breast feeding or stopped using hormonal contraception (e.g. the pill) may wish to wait until they have at least two natural, menstrual cycles in a row (lasting 21 - 42 days) before use.
Features:
Helps reduce the time it takes to conceive your baby.
Nearly all couples who conceive do so as a result ofhaving intercourse during the six days leading up to and including ovulation.
Displays your most fertile days unmistakably
Identifies your personal level of fertility every day
Tells you which days to test
100% Natural; Non-invasive and easy to use
99% Accurate
Made in U.K.
Test Sticks & Batteries are sold separately