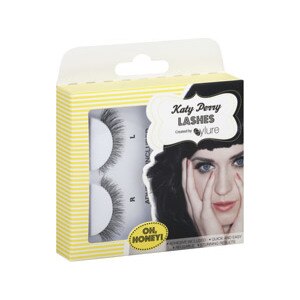 Eylure Katy Perry Lashes Oh, Honey!
Adhesive included. Quick and easy. Reusable. Stunning results. Application and care instructions enclosed. A stunning and wearable new lash collection from Katy Perry and Eylure. This style is Oh, Honey a flattering full lash, textured for a natural finish but with enough volume to take your lashes from fine to fab! All Katy Perry by Eylure lashes are handmade, 100% natural and each style is reusable. Made in Indonesia.
Aqua, Rubber Latex, Hydroxypropyl Methylcellulose, Phenoxyethanol, C9-11 Pareth-8, Sodium Salicylate, Methylparaben, Disodium EDTA, Butylparaben, Ethylparaben, Isobutylparaben, Propylparaben.
Katy's Top Tips: For the easiest lash application, here are my top tips: Tip 1: After applying the glue to the lash, leave until sticky, if you do the lashes will stick properly first time. I find it best to leave the lashes for about 20-30 seconds after applying the glue. Tip 2: When applying the lashes, get them as close to the lash line as you can. If there is still a small gap don't worry, you can use a soft eyeliner to simply fill in the space. Tip 3: A great idea is to use a cosmetic bud or tip to just lift the lashes up (after the glue is dry), this will ensure the lashes are level.
Keep out of reach of children. Contains latex.