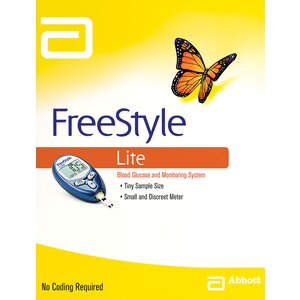 Freestyle Lite Blood Glucose Monitoring System
No coding required for convenient testing! World's smallest sample size. Small and discreet meter for testing on the go. Fast, 5-second accurate results in an average test time. Use only with FreeStyle Lite Test Strips. Fewer wasted strips. Test will only start when enough blood is applies. Meter beeps when the strip has enough blood. Add more blood for up to 60 seconds. Virtually pain-free testing. Test strips sold separately. Multiple test sites so your fingers can get a rest. 4 Reminder alarms to maintain your testing schedule. Stores up to 400 results with date and time. Provides results in 7-, 14- and 30-day averages. 0.3 Microliter FreeStyle Lite. Most test sites: Patients can test on less sensitive parts of their body (We recommend that you test on your fingers if you are testing for hypoglycemia (low blood glucose) or if you suffer from hypoglycemia unawareness). Upper arms. Forearms. Hands. Fingers. Thighs. Calves. For in vitro diagnostic use only. Money Back Guarantee. Meter made in China. Test strips made in USA.
Store at room temperature below 86 degrees F (30 degrees C).
Do not use if seal is broken or missing.