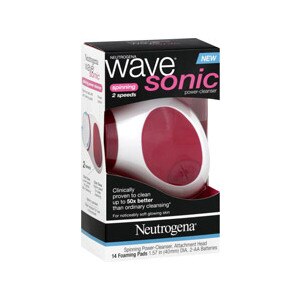 Neutrogena Wave Sonic Spinning Power-Cleanser
Wave hello to softer, glowing skin! Neutrogena Wave Sonic is the breakthrough spinning power-cleanser that guarantees results you can see every day. It''s clinically proven to clean up to 50x better than ordinary cleansing for noticeably soft glowing skin. (Removal of dirt and stubborn waterproof foundation vs. a leading cleanser.)
The spinning action of Neutrogena Wave Sonic works better than what your hands can do alone - deep cleansing, gently exfoliating and massaging in one easy step. Choose from two cleansing speeds: gentle daily cleansing and deep cleansing. Neutrogena Wave Sonic is water-resistant so it can be used while at the sink or in the shower.
Includes:
Spinning power-cleanser
Attachment head
14 foaming pads 1.57 in (40 mm) dia
2-AA batteries
Dermatologist tested.Battery operated. Water resistant for use in the shower. Neutrogena Deep Clean foaming pads made in USA. Neutrogena Wave Sonic Spinning Power-Cleanser made in China. Assembled in China of domestic and foreign components.
Glycerin, Sodium Laureth Sulfate, PEG-8, Cocamidopropyl Betaine, Decyl Glucoside, Lauryl Methyl Gluceth-10 Hydroxypropyldimonium Chloride, Phenoxyethanol, Methylparaben, Propylparaben, Citric Acid, Salicylic Acid, Menthol, Fragrance.
Simply attach a disposable pad to the attachment head.
Hold under running water to activate cleansing pad.
Turn on by pressing the power button. Choose your cleansing speed then gently massage over the face. Avoid use in delicate eye area. Rinse face thoroughly and dispose of cleanser pad after each use.
Install/replace batteries: Remove battery door by gently pressing and pulling up on the latch. Replace old batteries with 2-AA batteries. Replace battery door, press firmly until latch clicks into place. Press firmly around entire battery door to ensure water resistant seal.
Cleaning attachment head: Use thumb to press up and flip off the attachment head. Clean under running water and replace onto device. Clean once a month.
If product gets into eyes, rinse thoroughly with water. Do not use Neutrogena Wave Sonic Spinning Power-Cleanser without Neutrogena Deep Clean foaming pads included. Not for use with Neutrogena Wave Shine-Free Pads. Do not use on irritated or damaged skin or near eyes. Keep out of reach of children.