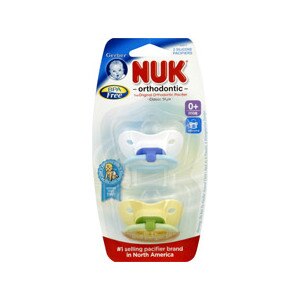 Nuk Pacifiers Silicone Size 1 Assorted Colors
No. 1 selling pacifier brand in the USA. Size 1 for Newborns to about 6 months. Encourages healthy oral development while satisfying natural sucking desire. Designed to be similar in shape to a mother's nipple during breastfeeding. NUK Air System allows baglet to conform to baby's mouth. Made in Germany.
Care: Prior to first use, sterilize by boiling in an open pan of water for 2 minutes. For day-to-day cleaning, simply wash with hot water and mild detergent or use top rack of dishwasher.
Do not tie pacifier around child's neck as it presents a strangulation danger. Any tear can lead to the separation of pieces, presenting a choking hazard. Test strength by pulling bulb portion before each use. Discontinue use if any tear or crack appears.