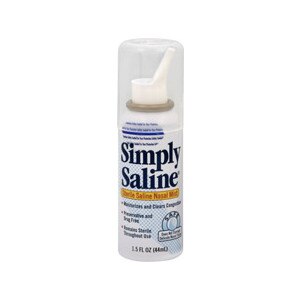 Simply Saline Sterile Nasal Mist
Compare & Save
with CVS/pharmacy Brands
Size: 1.52 OZ

$5.49
Moisturizes and clears congestion. Preservative and drug free. Remains sterile throughout use. Safe: Does not damage delicate nasal tissue. Provides gentle irrigation traditionally used for cold prevention. The only sterile preservative-free nasal saline solution. Contains no CFCs which deplete the ozone layer.
Purified Water, Sodium Chloride (0.9%).
1. To flush and irrigate, tilt head to the side over sink. Insert nozzle into one nostril depressing as a gentle mist fills sinus passages and flows out nostrils. 2. To moisturize, insert nozzle into each nostril and press as moisture is restored to dry nasal passages. Use as often as needed (non-habit forming, non-addicting). Store between 59-86 degrees F (15-30 degrees C).
The use of this dispenser by more than one person may spread infection. Keep out of reach of children. Contents under pressure. Do not puncture or incinerate. Safety sealed for your protection.