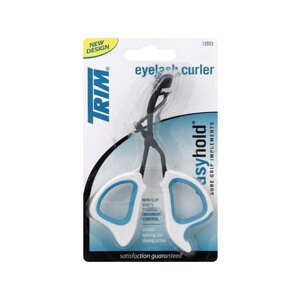 Trim Easyhold Sure Grip Eyelash Curler
Sure grip implement. Non-slip grips provide maximum control. Smooth opening and closing action. Satisfaction guaranteed. Trim products are manufactured to the highest quality standards that have satisfied customers for over 70 years. Unique non-slip handle provides maximum control. Curls lashes quickly and easily. Smooth opening and closing action. Ergonomically designed for ease of use. Trim products are guaranteed to be superior in lasting performance and free from defects in material and workmanship. Printed/packaged in the USA. Manufactured in China to The W.E. Bassett Company's quality standards.
Wipe rubber pads clean. Use before applying mascara. Steady your hand by resting elbow on a flat surface. Lift chin and look down into mirror. Widen opening. Position eyelashes above cushioned pad. Squeeze together gently but firmly for 15 to 20 seconds. For more curl, apply mascara. When dry, fluff lashes with dry brush and curl again.
Keep out of reach of children. This product is not intended for use by children.