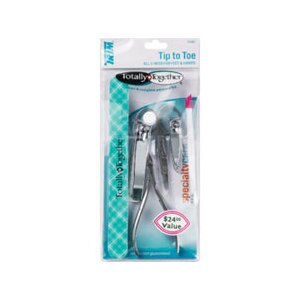 Trim Smart & Complete Personal Kits From Tip to Toe
All you need for feet & hands. For over 60 years Trim has been the most trusted name in quality personal care products, offering the best customer value by providing quality at a popular price. From Tip to Toe this kit has everything you need in one convenient pouch. Manufactured in China.
Cuticle Nipper: Cut the dead cuticle area, being very careful not to damage the healthy cuticle area. Cuticle Pusher: Using the cushioned tip of the cuticle pusher, gently push cuticle back into a square shape. Flat end can be used to clean under nails. Nail Scissors: Ideally nails should be cut when wet for smoother edges. Nails should be cut into an oval shape and should extend slightly beyond fingertips to protect this sensitive area. Fingernail Clipper: Ideally nails should be cut when wet for smoother edges and best results. Cut fingernails into an oval shape and to a length which suits your preference. Toenail Clipper: Place clipper along toenail edge, being careful not to cut nails shorter than tips of toes for maximum comfort. Salon Board: Nails should always be filed when dry to ensure a smooth edge. Place the board under the nail edge and file in one direction.
Keep out of reach of children. This product is not intended for use by children.