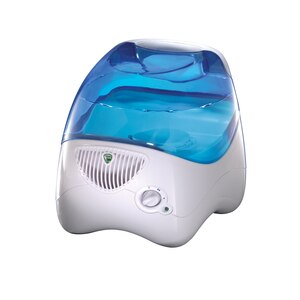 Vicks Cool Mist Humidifier V3100
Model V3100. Invisible moisture. Easier breathing and a good night's sleep. Naturally filters impurities from the water. Quiet operation good for bedrooms. 2 moisture settings. Small/Medium room size. Up to 18 hours of operation. Vapor Therapy for Healthful Living: Water is one nutrient that all forms of life must have to survive. All functions of your body require sufficient moisture to work properly. When your body does not have sufficient moisture, it functions poorly. Dry, arid climatic conditions are usually the culprit. Colds and flu can further cause dehydration. Colds and flu begin making their seasonal rounds during fall and winter. Part of the reason for increased respiratory illnesses during this time is because the humidity level in the air reaches its yearly lows. Central heating units in homes and offices further remove moisture from the air. The relative humidity may drop to as low as 10% - drier than the air in the Sahara Desert. Most people experience problems when the relative humidity drops below 25%. A comfortable humidity level should not be higher than 50%. When you or your child are experiencing congestion, then the humidity should be kept much higher, 70-80%, during these periods for best effect. The Cool Moisture humidifier helps combat this excessive dryness, providing these benefits: Keeps your respiratory system moist, allowing it to fight off bacteria, viruses and pollutants; Relieves cold, flu and hay fever symptoms; Relieves dry, irritated and itching skin and eyes; Relieves coughs and dry, scratchy throat; Helps you breathe better and sleep more comfortably; Stops dryout damage to plants, paintings and furniture; Saves you money on your heating bills, since proper humidity lets you feel more comfortable at lower temperatures. Kaz invented the electric vaporizer in 1924 and today is the world's leading manufacturer of vaporizers, humidifiers, and other healthcare appliances. How it Works: The tank feeds water in the base where it is absorbed by the wicking filter. As dry indoor air is drawn through the filter, it absorbs moisture and the moist air is circulated into the room. Because impurities and minerals in the water are left behind on the filter, this humidifier produces only pure, clean moisture with no white dust. The Vicks Cool Mist Humidifier uses evaporative technology to automatically adjust moisture level to prevent overhumidification of room. Translucent tank shows water level. 1.0 gallon (3.8 lt) capacity, operates at least 18 hours on a single filling. Flat tank top design lets you set unit upside down while filling. Pure natural moisture. Invisible vapor leaves no white dust. Two output settings. High for maximum moisture or larger rooms. Low maintains a comfortable humidity level in average rooms. Carrying handle. Wicking filter helps clean mist as it humidifies, trapping minerals, and pollutants. Filter is antibacterially treated. (The antimicrobial contained in the filter is intended to prolong filter life only by inhibiting the growth of unsightly mold, mildew and algae, as well as controlling odors from odor-causing bacteria. The antimicrobial in the filter does not protect users or others against bacteria, viruses, germs or other disease-causing organisms.) for prolonged life. Tank floor designed to drain completely, no standing water. UL listed. Made in China.
Read instructions carefully. Always follow the humidifier's instructions regarding cleaning, maintenance and servicing of your humidifier.