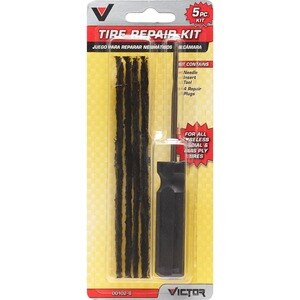 Victor Tubeless Tire Repair Kit
Fits all tubeless radial & bias ply tires. Contains 4 repair plugs & insert tools. For the temporary repair of tubeless tire punctures. The general industry standard recommends a combination plug and inner liner patch to be considered a permanent repair. Made in China.
1. Remove object that caused puncture. 2. Remove repair plug from package and insert into eye of needle tool. Center plug within eye opening. If you have difficulty inserting plug into eye it may be opened up slightly with a flat blade screwdriver. 3. Insert needle with repair plug into hole until plug is pushed in approximately 2/3 of the way. Pull needle straight out, without twisting, in a rapid motion. 4. Cut off excess plug material flush with tread of tire. Inflate tire to manufacture's recommended pressure.