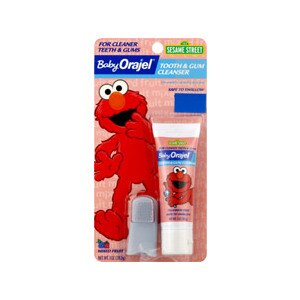 Baby Orajel Sesame Street Mixed Fruit Tooth & Gum Cleanser
Compare & Save
with CVS Pharmacy Brands
Size: .18 OZ
(1)

$5.49

($30.50 / oz.)
For babies 4 months & older. For cleaner teeth & gums. Fluoride-free. Safe to swallow. Pediatricians and pediatric dentists highly recommend that parents begin cleaning baby's teeth and gums everyday at an early age. Sugars in formula, juice and other foods can build up a plaque-like film. Cleaning the teeth and gums at an early age helps develop healthy habits for a lifetime of beautiful smiles. Baby Orajel Tooth & Gum Cleanser gently cleans teeth and gums with a mild, fruity flavor so your baby will enjoy it. Best of all, it's fluoride-free so it's safe to swallow. Baby Orajel Tooth & Gum Cleanser is made in U.S.A. Finger toothbrush is made in China.
Product Type:

Toothpaste

Quantity:

0-5 OZ

Primary Flavor:

Fruit

Concern:

Teething & Oral Care
Active Ingredients: Microdent [Poloxamer 407 (2%), Simethicone (0.12%)]. Inactive Ingredients: Carboxymethylcellulose Sodium, Citric Acid, Flavor, Glycerin, Methylparaben, Potassium Sorbate, Propylene Glycol, Propylparaben, Purified Water, Sodium Saccharin, Sorbitol.
Wash hands. Place finger toothbrush securely on index finger. Apply Baby Orajel Tooth & Gum Cleanser to the bristles of the brush. Gently brush your baby's teeth and gums to remove food and plaque-like film. For best results, use twice daily in the morning and at bedtime. How to Start: Sitting your baby on your lap, begin by cleaning the front teeth, and then gradually move towards the back gums. A gentle, circular motion works best. Make brushing a part of your daily routine, such as after baby's bath or after you finish brushing your teeth. Parent Tips: Make up a silly song to sing every time you brush your baby's teeth and gums. Try something like this, sung to the tune Old MacDonald Had a Farm. Now we're gonna brush your teeth e-i-e-i-oh. And then they're gonna be so clean, e-i-e-i-oh. With a brush, brush here and a brush, brush there. Here a brush, there a brush, everywhere a brush, brush. Now your teeth are nice and clean e-i-e-i-oh. Finger toothbrush can be sterilized in boiling water before use and is dishwasher-safe or can be hand washed.
When using this product do not leave your baby unattended with finger toothbrush. Keep out of reach of children. Do not use if outer blister on card is torn or cut before first use.